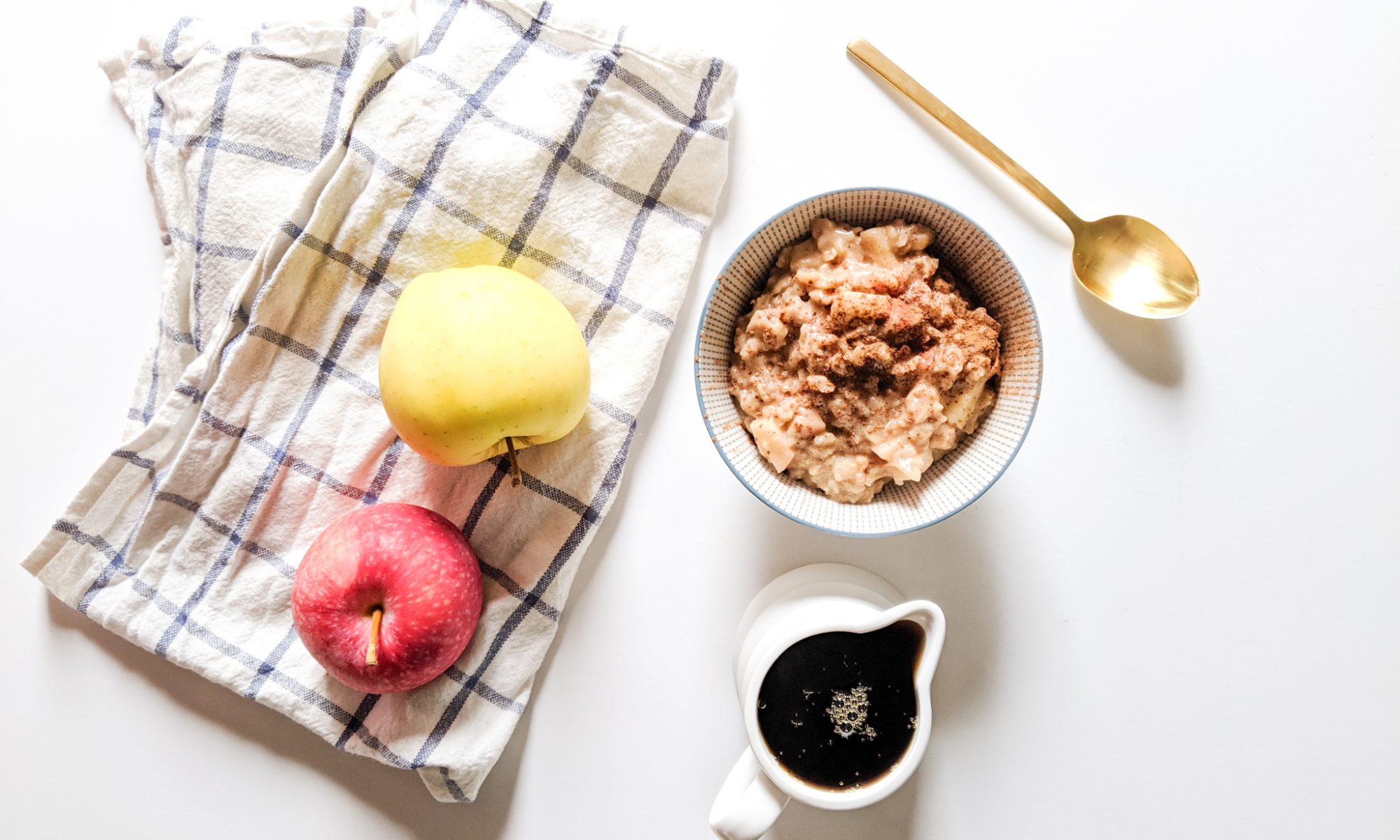 ---
There's a chill in the air. The sun has been hidden behind the clouds. The leaves are changing and falling on to the ground, giving a nice crunch as you walk. Apples are ready to be picked. It's officially AUTUMN! This Apple Cinnamon Oatmeal is perfect for the cooler mornings when you need something ultra warm and cozy.
I feel like there's a weird romanticism about fall, people get really into this season and to be quite honest, I've never understood the infatuation. I'm a summer girl through and through. But there is something innately special about slowing down and wrapping yourself up in a blanket. So, are you team fall or summer?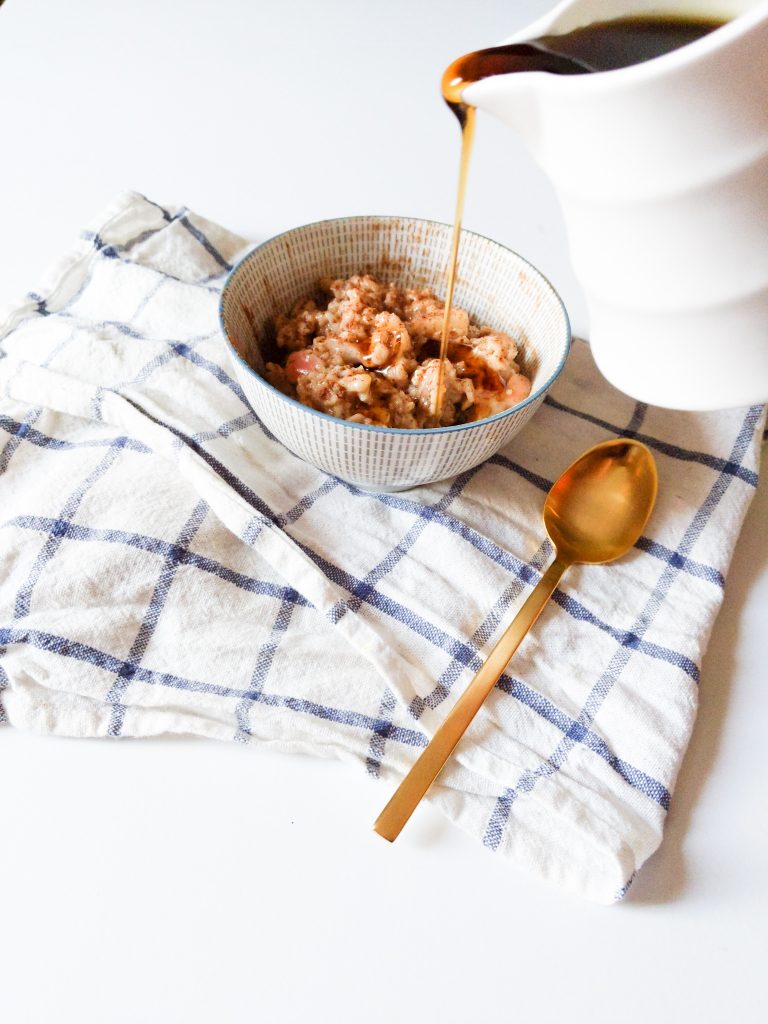 We were in Prince Edward County a few weeks ago and went apple picking. We got 10 pounds of apples, we mixed the varieties so we ended up with a blend of MacIntosh, Green Ginger (I think?), and Red Delicious. That's how this recipe came about, because we had so many apples and one morning I needed something warm and comforting, so I whipped up Apple Cinnamon Oatmeal. It reminds me of the instant oatmeal I used to have as a kid in the winter. You know those little packets that you add water and microwave? Except, this version is not packed full of sugar or weird ingredients!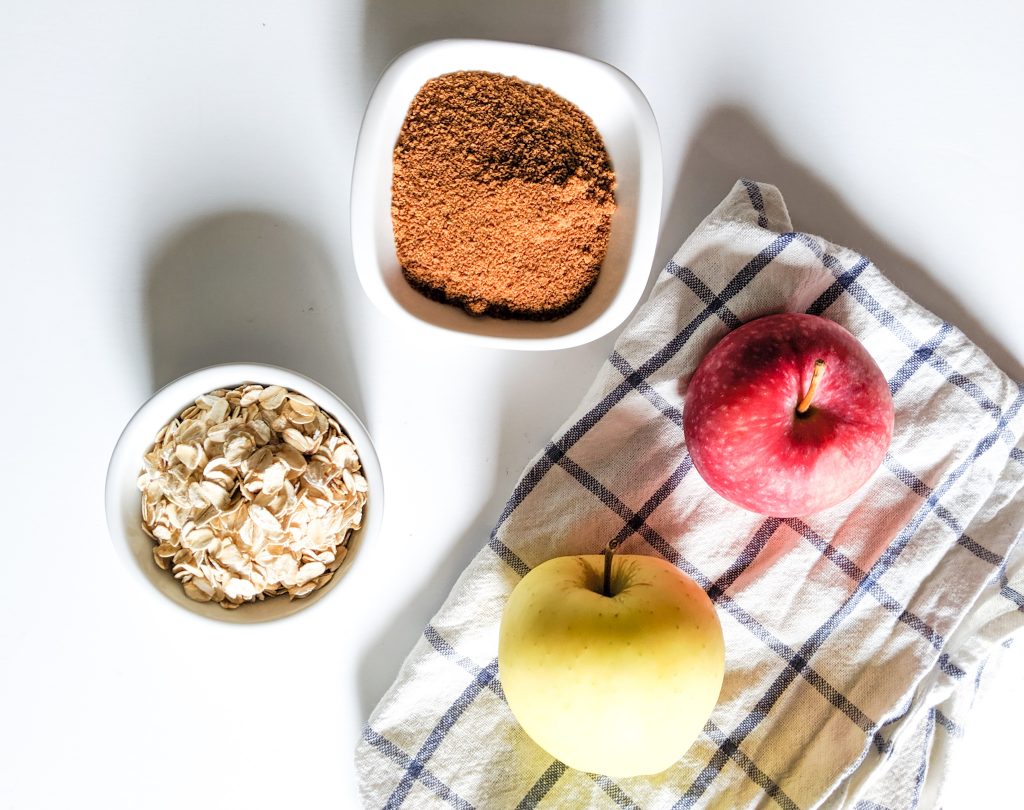 Some of my favourite things about this recipe are:
Cinnamon is a blood sugar balancing spice, which means after having this beautifully cozy breakfast, you are going to be satiated until lunch!
Rolled oats are a wonderful source of fibre, so they are amazingly helpful for eliminating excess hormones and toxins. And, rolled oats, because they have lots of fibre, are blood sugar balancing and satiating as well.
Apples are delicious and taste like fall, don't you think? Also, apples are a great source of prebiotic fibre which feed your good bacteria in your gut. So, your immune system, hormones, and digestion are going to be happy after this meal!
No refined sugar! In most instant oatmeals you find in the grocery store, they are loaded with sweeteners, normally cane sugar. This recipe uses a touch of caramel-y coconut sugar and a little bit of maple syrup for sweetness.
Want more hormone balancing, delicious meals? Grab my free Eat to Thrive Meal Plan by submitting your name and email below!
Ingredients
1 cup rolled oats
1 cup canned coconut milk (the liquid, not the cream)
1 cup water
2 apples, diced
2 tablespoons coconut sugar
1 teaspoon cinnamon
Maple syrup for serving
Instructions
In a saucepan, over medium heat, combine oats, coconut milk, and water. Cover and cook for 10 minutes over a slight simmer.
After 10 minutes or once the liquid has mostly been absorbed, add in diced apples, coconut sugar and cinnamon. Stir everything together.
Cook for another 5-10 minutes or until all the liquid is absorbed and the apples have softened.
Top with maple syrup and a dollop of coconut cream before serving. Enjoy!
https://elizabethraybould.com/apple-cinnamon-oatmeal/