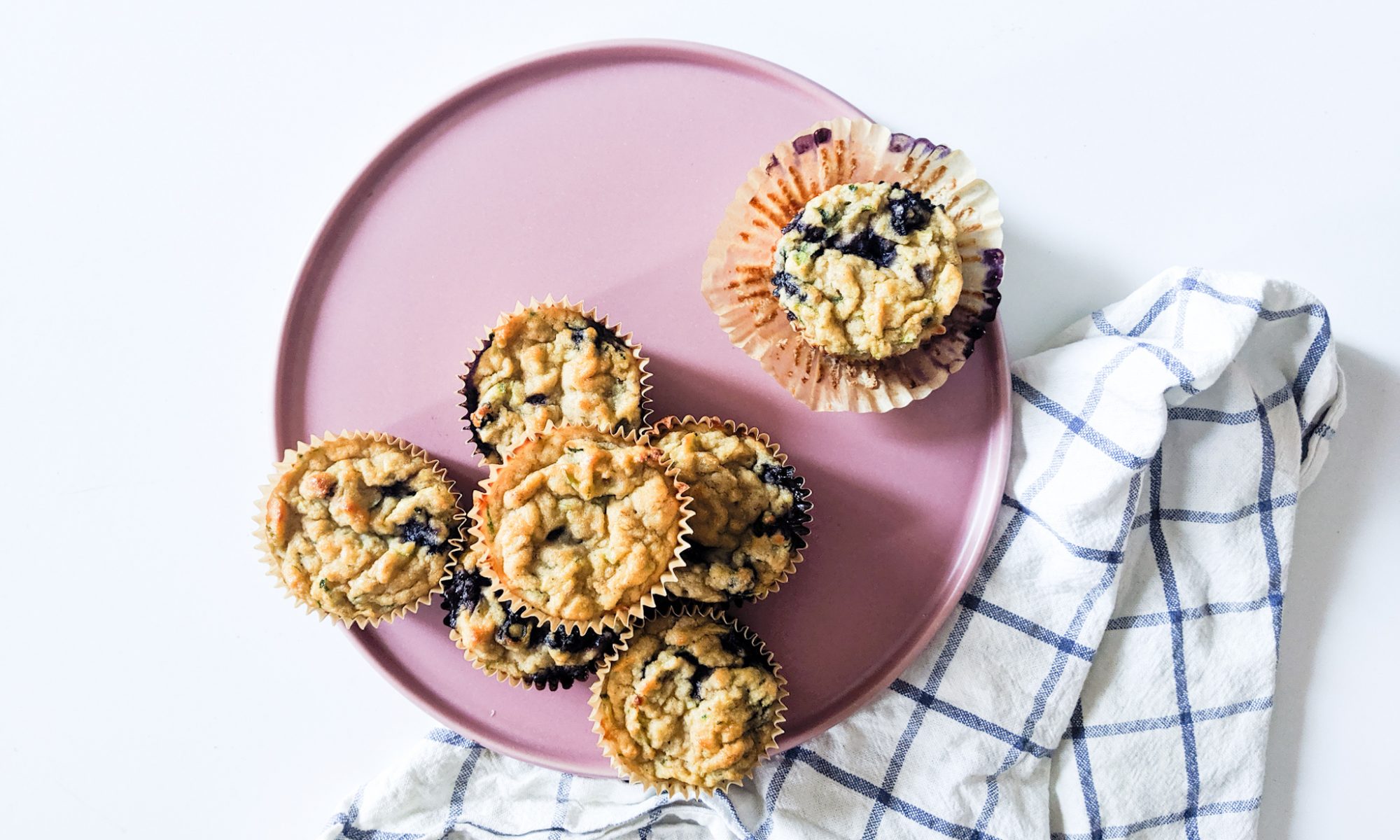 ---
Banana Blueberry Zucchini Muffins
It's zucchini season and if you are anything like me, you get tired of the same old chocolate zucchini loaf. Banana Blueberry Zucchini Muffins are the perfect recipe to switch it up a bit. Zucchini is such a versatile vegetable. It's low carb, dissolves into nothing, and is perfect for sneaking into recipes. I know for any parents out there, sneaking vegetables into things is crucial to ensure your kids avoid scurvy!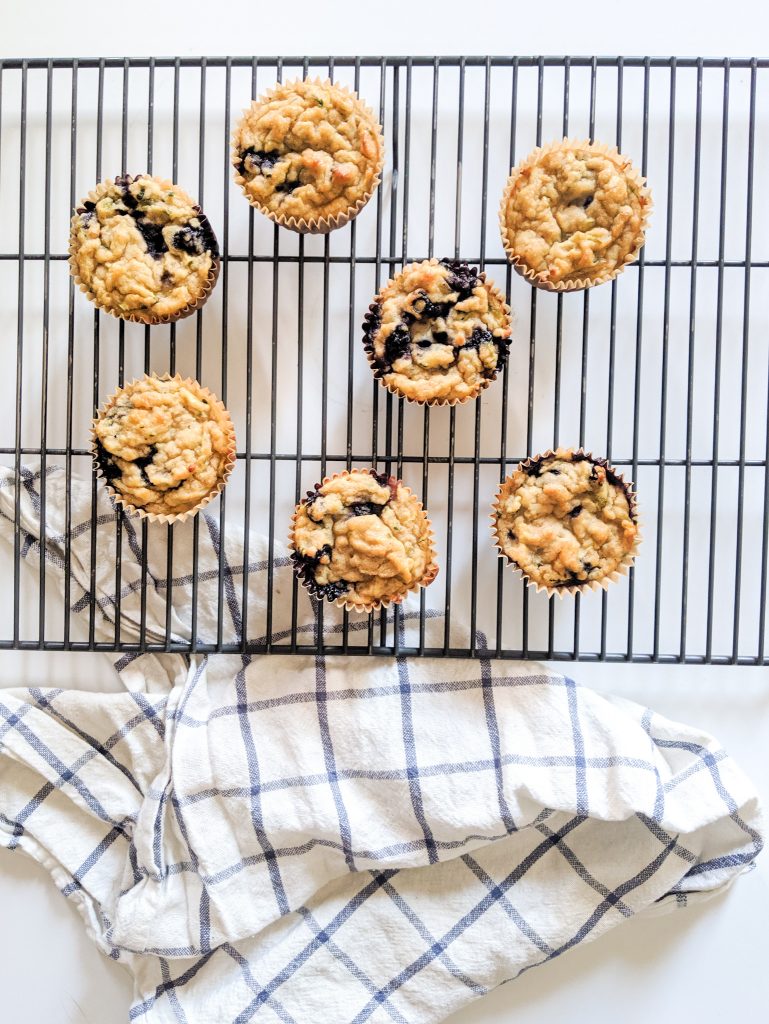 Morning Routines
Back to school is upon us and I know how tricky it is to get back into a routine. So long summer days and staying up past your bedtime, hello quick breakfasts while running out the door. If your morning routine is a little less than relaxing, then having a handful of easy recipes, like these banana blueberry zucchini muffins, that you can have on the way to school or work is important.
I know that when my morning routine feels hectic, it sets me up for chaos in every aspect of the rest of my day as well. It's important to create routine that works for you, not against you. Maybe that means waking up 30 minutes earlier to have time to yourself. Maybe it means packing lunches the night before or having food prepped for painless breakfasts.
These banana blueberry zucchini muffins fit the bill. They are grain-free and gluten free. They have a great dose of fibre thanks to our good friend coconut flour. The are light and fluffy, you'd never know they are gluten free. I made them a few nights ago and the next morning Topher had one and asked if they were gluten free. Then, I couldn't photograph them because it was raining, and I always try to take photos on bright days for the best pictures. I told Topher that he couldn't eat any more because I still needed to photograph them. He was not impressed. I guess that's the best compliment I can get.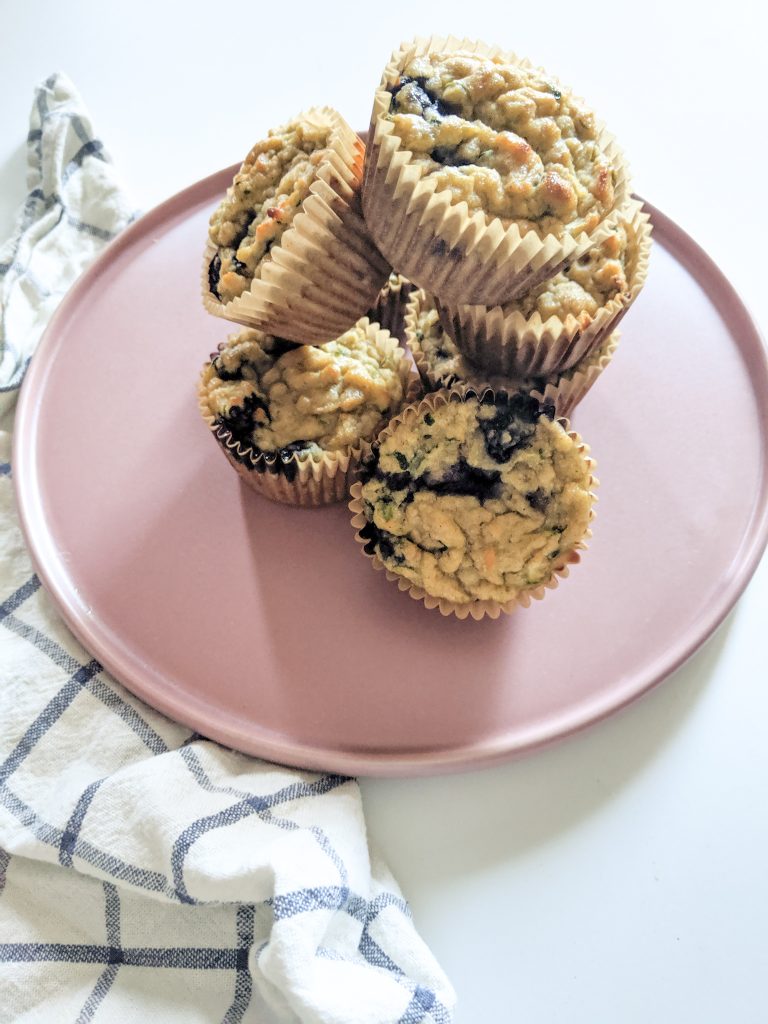 Recipe Creation
This recipe actually came about when I was wanting to bake muffins, had a couple overripe bananas and a zucchini on it's last legs. The blueberries were an afterthought. I had a quart of blueberries in the fridge and decided last minute to throw them in! The muffins get some of their light, fluffy texture from the combination of yogurt and baking powder. You can always leave the blueberries out and just make banana zucchini muffins! Frozen blueberries work really well in this recipe as well.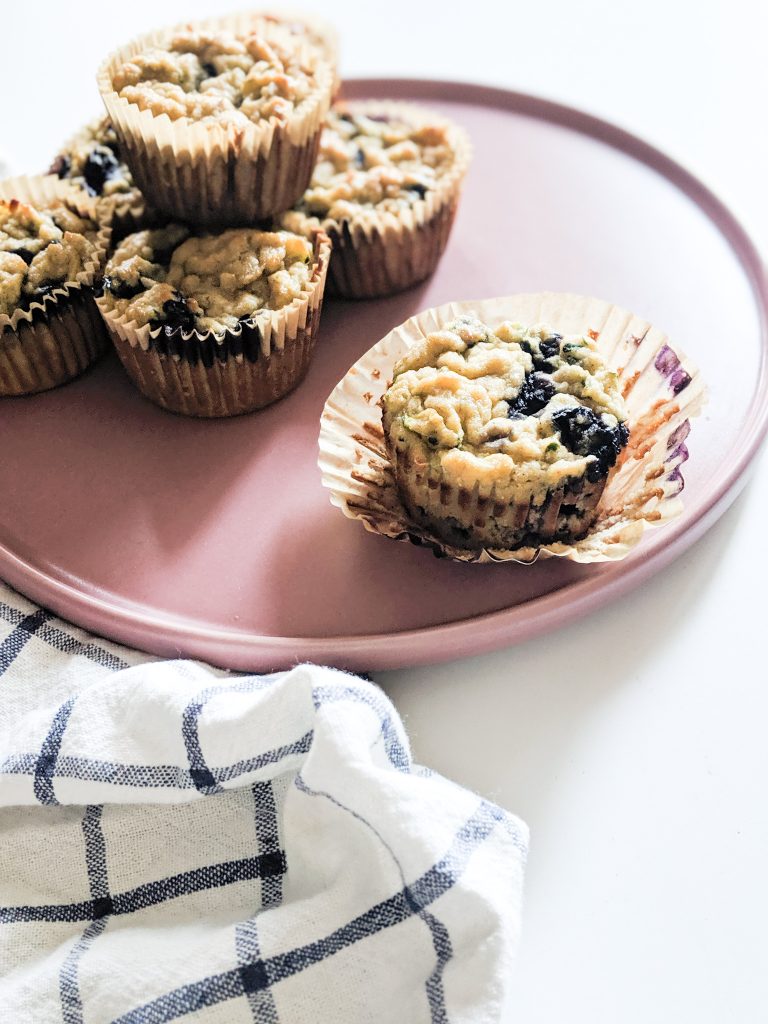 As always, let me know what you think of these muffins when you make them, I'd love to hear in the comments what you think!
Banana Blueberry Zucchini Muffins
Ingredients
1 overripe banana
2 eggs
1/3 cup maple syrup
1/4 cup coconut yogurt
2 tablespoons olive oil
1/2 cup almond flour
1 cup tapioca flour
1/2 cup coconut flour
1 teaspoon cinnamon
2 teaspoons baking powder
1 cup grated zucchini
1/2 cup blueberries
Instructions
Preheat oven to 350ºF. Line a muffin tin with muffin liners.
In a large bowl, mash banana. Add in eggs, maple syrup, coconut yogurt, and olive oil. Stir to combine well.
In a separate medium sized bowl, whisk together flours, baking powder, cinnamon.
Add dry ingredients to the wet and stir to combine. Fold in zucchini until combined. Gently fold in blueberries until combined.
Using a retractable scoop or a spoon, scoop batter into muffin liners, filling each cup 3/4 full.
Bake for 40-45 minutes or until a toothpick inserted comes out clean.
https://elizabethraybould.com/banana-blueberry-zucchini-muffins/