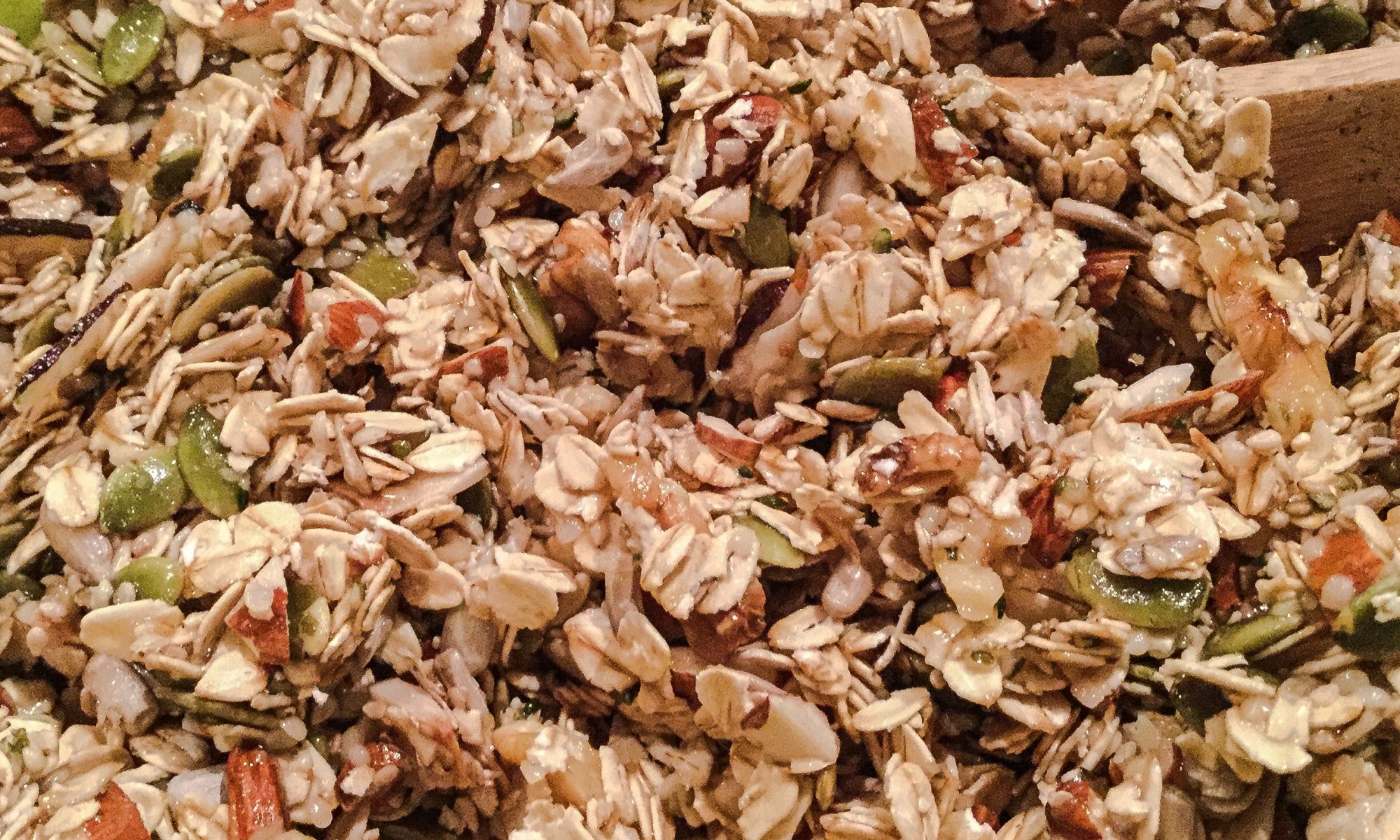 ---
Basic Granola
This is a basic Granola recipe that you can make as unique as you want! Granola is a staple in my house, we eat it just as is, on Yogurt and sometimes make it as clusters with cacao nibs for an on-the-go snack. You can add or subtract from this recipe as you like. I make it refined sugar free and gluten free.

The benefits of the specific ingredients are below and the recipe is below the benefits, just scroll on down!
Rolled oats: are great for digestion, they are high in beta-glucan fibre which is linked to lowered cholesterol. They are also a rich source of many minerals including magnesium, flavonoids, selenium, and zinc as well as other minerals.
Pumpkin Seeds: are also very rich in zinc which is linked to an improved immune system, magnesium which is a heart healthy mineral and healthy Omega-3 fats.
Sunflower Seeds: are very rich in anti-inflammatory Vitamin E. A diet rich in Vitamin E has been linked to lower stroke and Alzheimer's rates.
Almonds: contain lots of healthy fats, protein, fibre, magnesium and vitamin E which are all part of a healthy diet.
Walnuts: are high in Vitamin E in the form of gamma-tocopherol which is particularly beneficial for men's cardiovascular health. These tree nuts also have anti-inflammatory properties and antioxidant rich phytonutrients.
Hemp Hearts: are very high in protein and omegas 3, 6, and Gamma Linolenic Acid (GLA). GLA is shown to improve hair health, lower cholesterol, hormone balance, skin health and heart health.
Brown Rice Syrup: I use brown rice syrup because it gives the granola a clumpy texture as opposed to a flakey texture. Brown Rice Syrup is a sweetener that is derived from brown rice, the benefit to using it as opposed to sugar is that it takes longer to absorb into the bloodstream which means it won't make you feel fatigued, irritable or craving more sugar.
Maple Syrup: is loaded with antioxidants which are great for your skin. The antioxidants in maple syrup help to repair damage caused by environmental factors and free-radicals which cause pre-mature skin aging.
Coconut Oil: is high in saturated fats which increases healthy cholesterol and helps convert bad cholesterol into good cholesterol. Coconut Oil also doesn't lose its beneficial properties when heated, unlike olive oil. Coconut oil promotes heart health, and lowers the risk of heart disease. 
Basic Granola Recipe
4 Cups                      Large Flake Rolled Oats
1/2 Cup                     Walnuts, chopped roughly
1 Cup                         Almonds, chopped roughly
1/2 Cup                     Hemp Hearts
1/2 Cup                     Sunflower Seeds
1/2 Cup                     Pumpkin Seeds
1/3 Cup                     Sesame Seeds
1/2 Cup                     Coconut Flakes
1/3 Cup                     Coconut Oil, melted
1/4 Cup                     Brown Rice Syrup
1/4 Cup                     Maple Syrup
Instructions
Preheat oven to 250°F.
In a large bowl, combine all dry ingredients (oats, seeds, nuts) with a wooden spoon.
In a microwave safe measuring cup – I love to use my glass Pyrex 2 cup measuring cup – melt your coconut oil in the microwave just until it's liquified, about 45 seconds. Once melted, add the brown rice syrup and maple syrup to your coconut oil and whisk until thoroughly combined.

Pour oil and syrup mixture over dry ingredients and mix to combine. All of the oats, seeds and nuts should be glistening, ensure you have mixed everything very well.
At this point you can add additional spices if you'd like. I generally add 2 TBSP Cinnamon and 1 TBSP Ground Ginger. Other variations include 1 TBSP Orange Zest or 3 TBSP Raw Cacao Powder and 1/4 Cup Cacao Nibs or anything to your hearts content.

Once everything is well combined, spread mixture out onto two parchment lined baking sheets. Spread the granola into one even, thick layer to ensure it cooks evenly.
Bake between 1 hour and 1.5 hours stirring halfway though. You'll know when it's ready when it's fragrant and golden.
Once granola is baked let it cool on the baking sheet. At this point, you can add 1 – 1.5 cups of dried fruit, if you want. Dried cranberries, raisins, dried blueberries and dried cherries all work well.
When your granola is cooled break the apart into clumps and store in an airtight container.
Bon appétit!