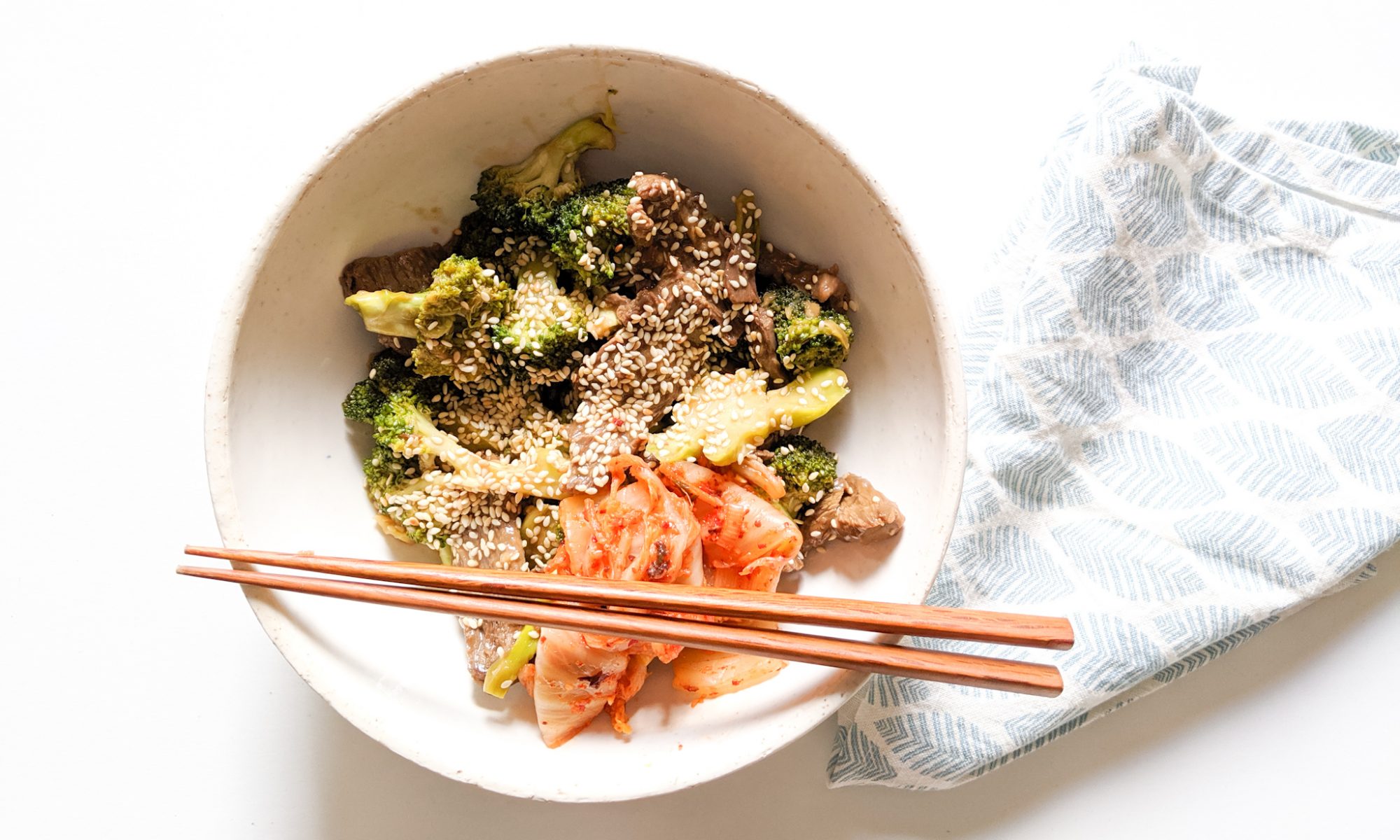 ---
Beef & Broccoli is one Chinese take-out dish that I recently discovered and loved. I am a sucker for delicious take out but this beef & broccoli dish rivals even the best take out. The best part is that it won't leave you feeling like crap like take-out dishes often do. From the MSG, additives, gluten, grains, and overall not so high quality ingredients, I find that I always feel like crap after eating take-out, even when I'm super careful with ordering.
What's your favourite type of take-out? Let me know in the comments!
In this dish, you can use higher quality ingredients like grass-fed beef, organic broccoli, and delicious flavourful ingredients in the sauce. You can also make this dish in 30 minutes, so it's perfect for busy weekdays!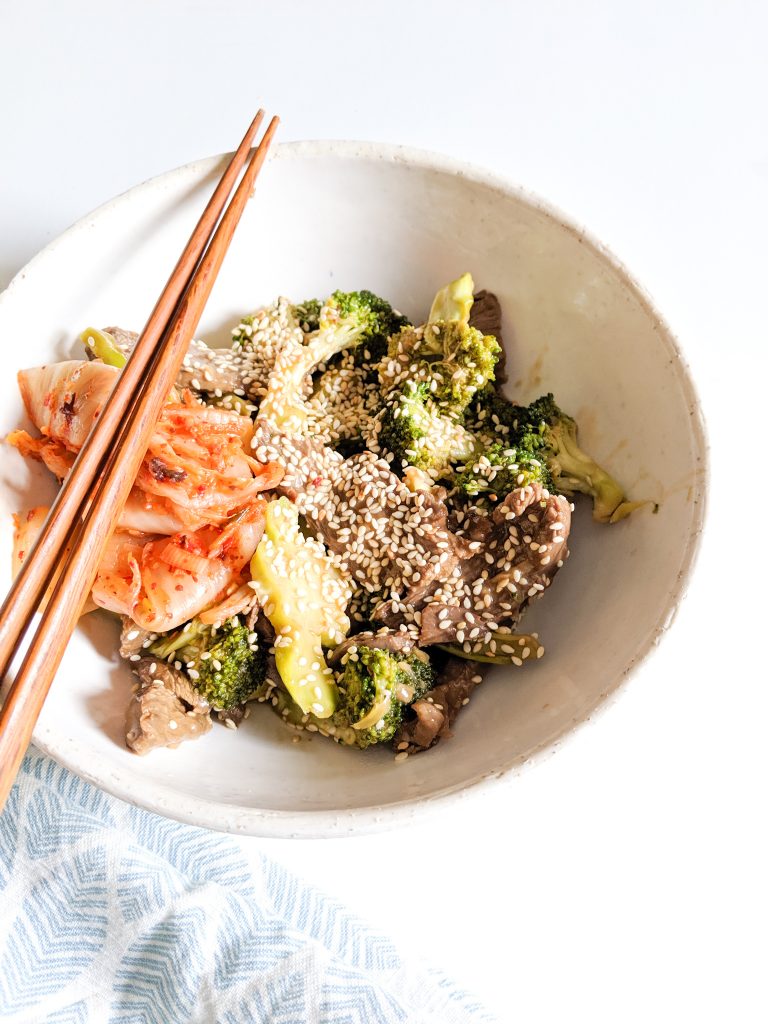 Is Beef Bad?
It's been talked about in the media lately that beef and red meat consumption may lead to cancer. Have you heard this rumour? Let's clear some things up, shall we? Poor quality ingredients, including red meat, have a higher likelihood of causing disease due to the additives in the feed, the toxins in the meat, and even the antibiotics that the animals are being treated with. All of these toxins are stored in fat cells, just like in us, humans, which means when the meat is a fattier cut or has more marbling, this is a bigger issue.
Let me be clear, high quality, grass-fed beef is healthy especially when paired with green vegetables. First of all, grass fed, organic beef is an incredible source of highly absorbable iron, perfect for menstruating people. Secondly, there's research that's come out indicating that when beef is paired with green vegetables, the chlorophyll in the green vegetables counteracts and deactivates any potential carcinogens in red meat.
This is one reason that I love this stir-fry, it pairs so much liver-loving broccoli with the beef. This means that the chlorophyll in the broccoli will deactivate any carcinogens found in beef.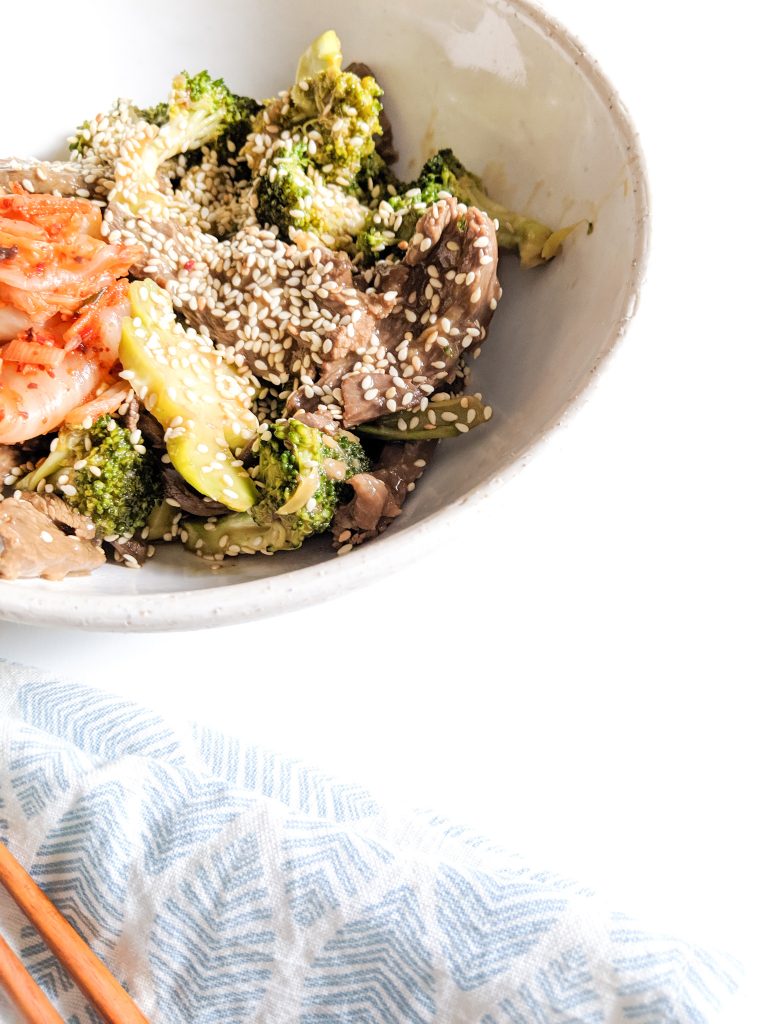 Broccoli: The Super Veggie!
Broccoli is also a wonderful source of Sulforaphane. Sulforaphane turns into DIM (diindole-methane) in your liver which helps the body to detoxify excess estrogen. This is the case with all cruciferous vegetables like cabbage, kale, brussel sprouts, cauliflower, and of course broccoli. You should definitely be increasing your intake of cruciferous vegetables if you have any sort of PMS. Check out my Perfect PMS blog post for more information on the best foods to avoid PMS.
Grab my Hormone Hacking Guide below for all my tips and tricks for PMS!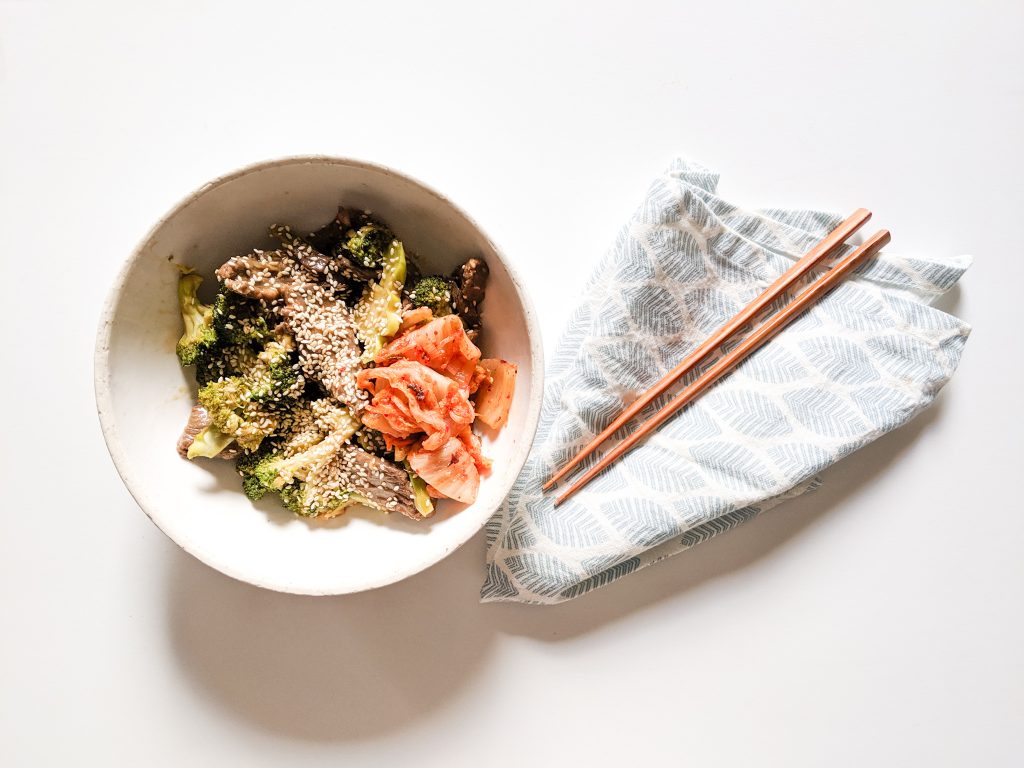 Ingredients
2 tablespoons coconut oil
4 cloves garlic, minced
1 tablespoon ginger, grated
5 cups broccoli, florets and stalks (peeled and sliced)
1/3 cup coconut aminos or tamari
2 teaspoons fish sauce
1 tablespoon Sriracha (or more if you'd like it spicier)
1 tablespoon apple cider vinegar or rice wine vinegar
2 tablespoons sesame oil
2 tablespoons arrowroot powder
2 cups flank steak, sliced into 1/8 inch strips
1/3 cup beef broth
1/4 cup sesame seeds, toasted, to garnish
2 tablespoons kimchi, to top
Instructions
In a wok or large cast iron pan, over medium heat, add coconut oil. Once coconut oil is melted, add garlic and ginger. Let sizzle in oil for about 30 seconds and add broccoli florets and sliced stalks. Toss to coat in oil, garlic and ginger. Let cook for 5-7 minutes or until bright green and slightly softened.
While broccoli is cooking, combine in a bowl, coconut aminos/tamari, fish sauce, Sriracha, vinegar, sesame oil, and arrowroot powder. Whisk to combine. Place sliced beef in a bowl and pour prepared sauce over the beef and stir to coat.
Once broccoli is cooked, transfer it to a bowl. Turn heat to medium-high and add beef and sauce to the pan and cook. Once beef is cooked (about 10-15 minutes) add broth the the pan and let it come to a boil and thicken. Turn the heat off and add broccoli back to the pan, stir to coat in sauce.
Divide into bowls and top with toasted sesame seeds and kimchi.
https://elizabethraybould.com/beef-broccoli/