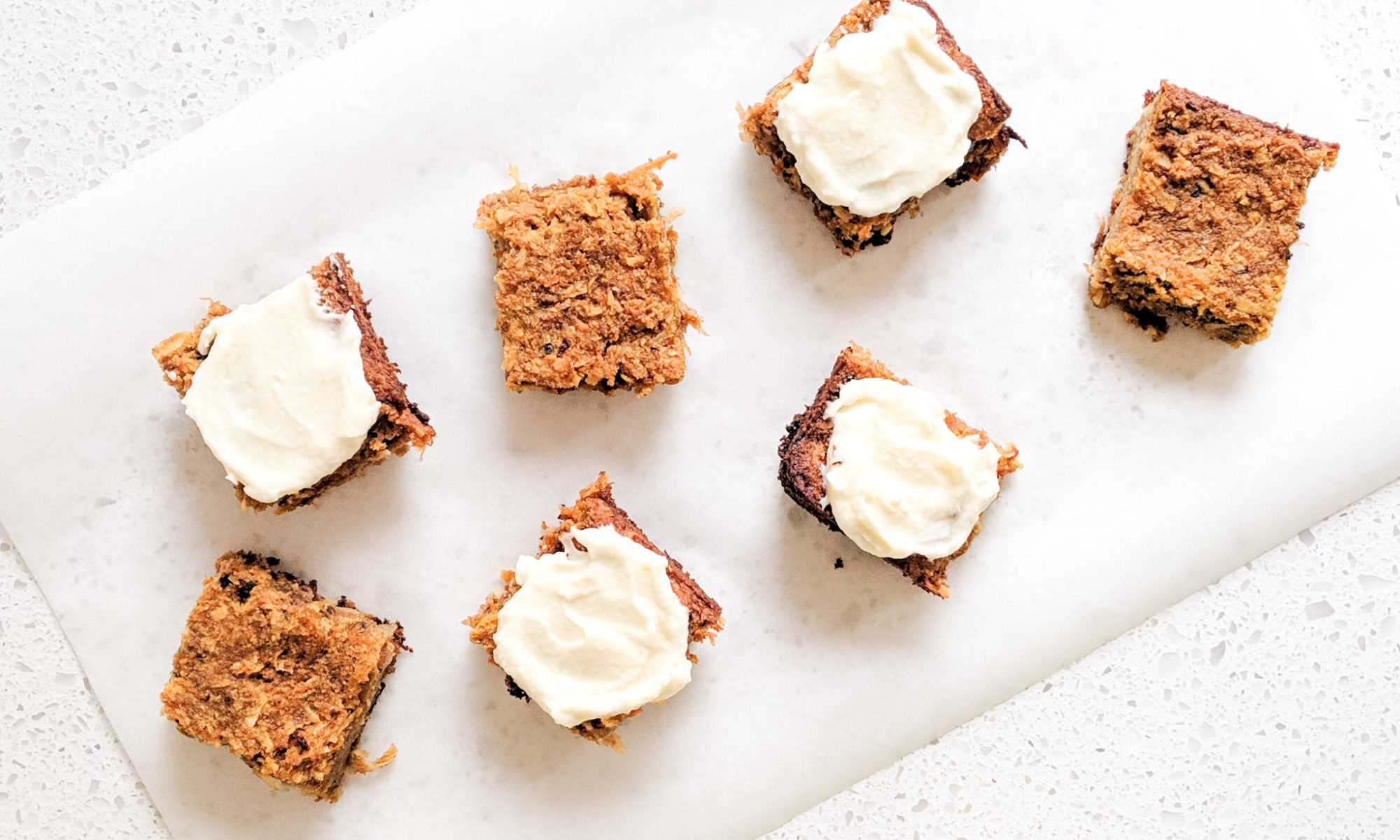 ---
I originally made these carrot cake squares for Easter brunch and they turned out so so well, that I thought that I'd share the recipe with you. These are grain-free, gluten-free, can be vegan, and refined sugar free. This cake would be absolutely perfect for a Mother's Day dessert as well.
I don't tend to gravitate towards carrot cake. Leading up to Easter however, I was craving a piece of carrot cake like nobody's business. Honestly, I was confused by the craving. Maybe it was because of all the lemon squares I was testing and tasting! I went with the carrot cake craving and it led to this carrot cake recipe which is a real winner.
I used coconut sugar and a touch of maple syrup in the recipe which really brings out some caramel undertones. These sweeteners also compliment the carrots so well. I definitely jam packed these squares with as many carrots as possible! Plus, because carrots are naturally super sweet, you really don't need much added sweetener.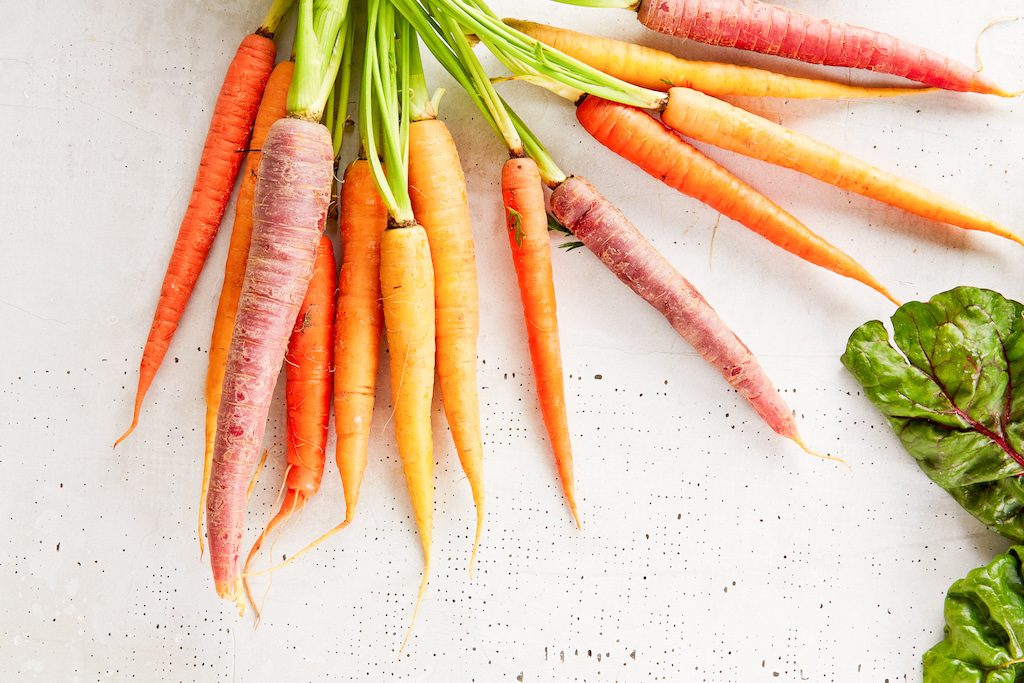 This cake recipe is also perfectly suited to being a carrot cake loaf, instead of cake. Thanks to the added flax and hemp hearts, you could definitely have a slice of this for breakfast and feel great about it.
I love the addition of ground flax seed for the added fibre and hemp hearts provide an incredible punch of omega 3 fatty acids. Not to mention, hemp hearts are also a great source of protein which makes this dessert quite blood sugar balancing.
Make it like so…
If you'd like to make this recipe vegan, simply substitute the eggs for flax eggs. All you need to do to make a flax egg is add 1 tablespoon of ground flax to 3 tablespoons of water. Let it sit for 3-4 minutes until it thickens into a gel-like consistency.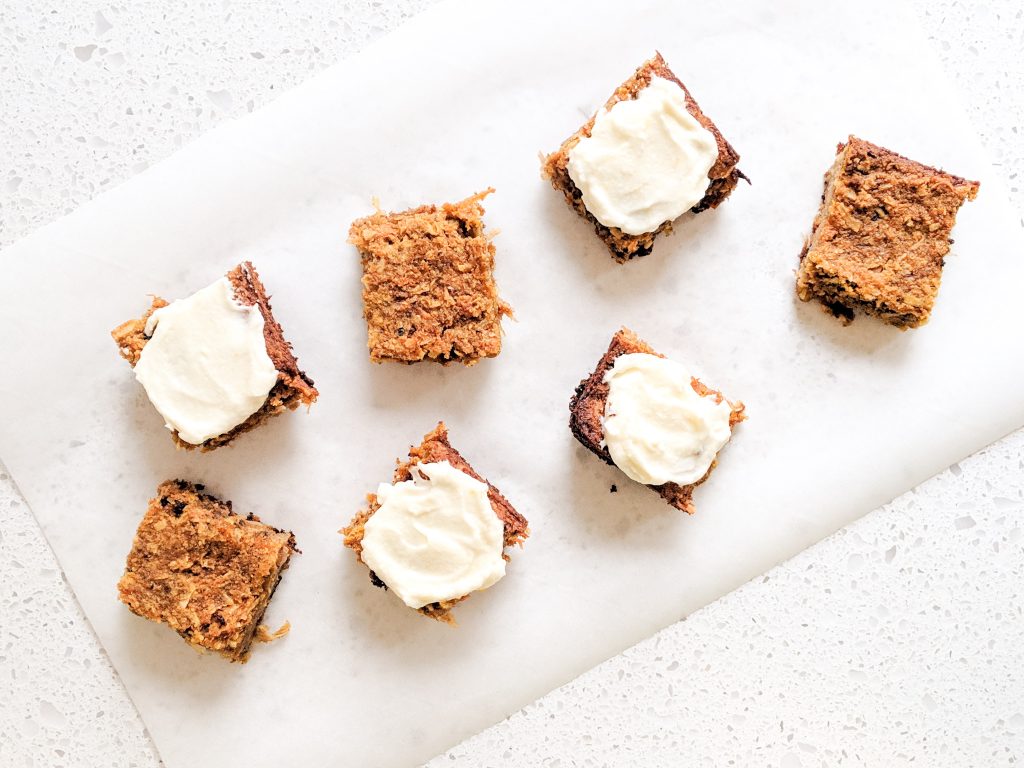 Ingredients
For the cake:

1/4 cup melted coconut oil
1 1/2 cups almond flour
1 teaspoon sea salt
1 1/2 teaspoon baking power
1 teaspoon cinnamon
1 teaspoon ground ginger
1 teaspoon cardamom
3 eggs (*or flax eggs see notes)
1/2 cup coconut sugar
1/4 cup maple syrup
1 1/2 cup grated carrots
1/3 cup shredded carrots
1/3 cup chopped walnuts
!For the icing:
1 cup cashews, soaked overnight
1/2 cup coconut cream
2 tablespoons maple syrup
1 teaspoon lemon zest
1 tablespoon lemon juice
Instructions
Carrot Cake:

Preheat oven to 350ºF and grease and line an 8×8 square pan with parchment paper.
Whisk salt, baking powder, cardamom, cinnamon, ginger, baking soda, and almond flour in a medium bowl.
Using an electric mixer on medium-high speed, beat eggs (or flax eggs) and coconut sugar in a large bowl until the sugar is dissolved and the mixture is light and fluffy, about 5–7 minutes.
Using a rubber spatula, fold in dry ingredients into the egg mixture. Add carrots and walnuts. Folding just until combined.
Pour batter into prepared pan and bake for 45 minutes or until it's golden and a toothpick inserted into the centre of the cake comes out clean.
Let cool 10 minutes. Carefully run a knife around edges of pans to release cake, then invert onto a wire rack. Let cool completely.
!Cream "Cheese" Icing:
In a high speed blender, combine soaked and drained cashews, coconut cream, maple syrup, lemon zest, and juice. Blend until totally smooth. Spread over the top of your completely cooled carrot cake!
Notes
Egg Free: Use flax eggs. Combine 1 tablespoon flax to 3 tablespoons warm water. Whisk together and set aside 3-4 minutes, until thickened and it reaches a gel-like consistency.
https://elizabethraybould.com/carrot-cake-squares/