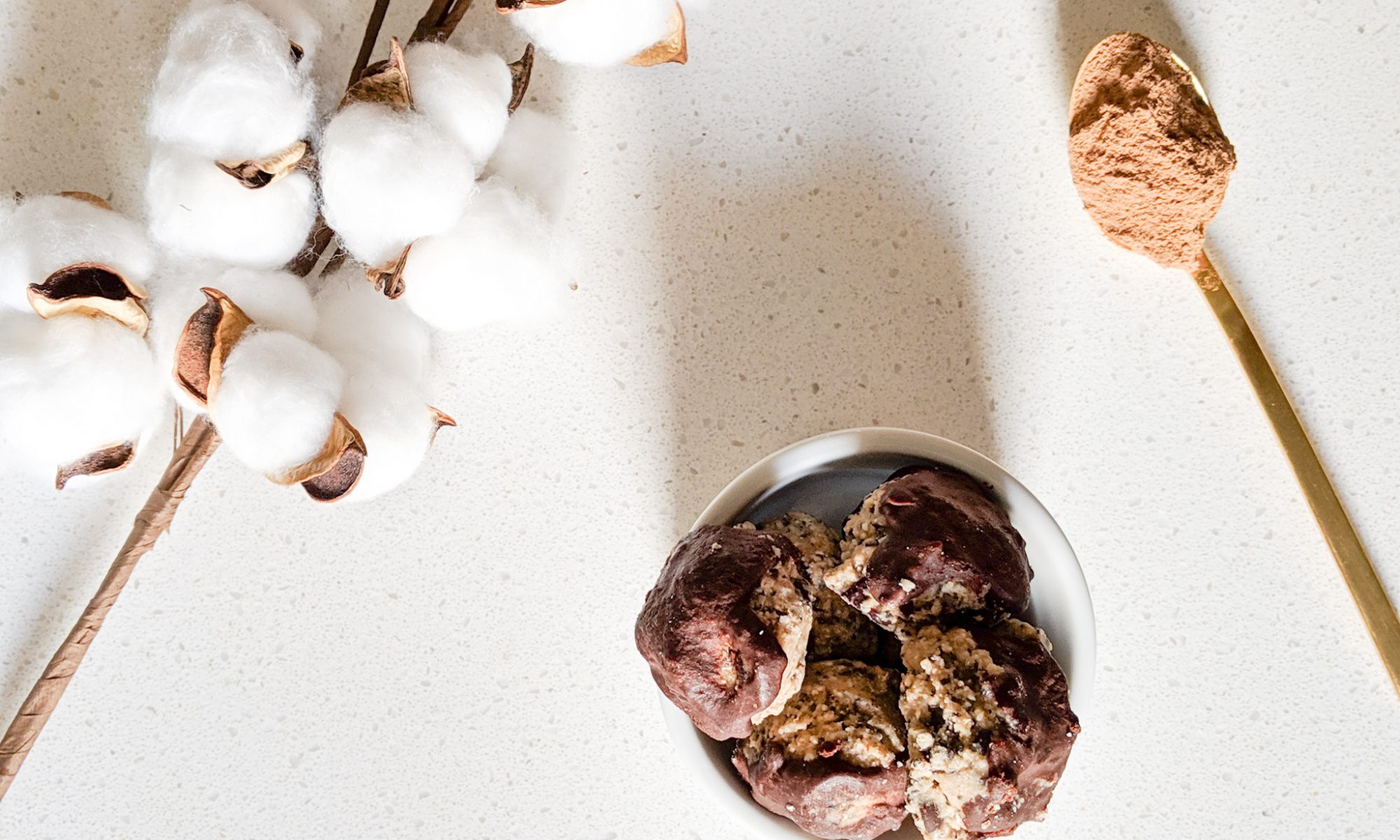 ---
These CBD Fat Bombs are actually Topher's recipe, I can't take any credit for them at all in fact. Topher has been using CBD to help ease anxiety for a while. Seeing the benefits first hand of how CBD works for him, has totally convinced me of the benefits. Moreover, seeing the research around CBD, has proven the numerous benefits for all kinds of folks with all various health concerns. These CBD Fat Bombs are absolutely delicious and can be customized to your liking and you can use as little (aka none) CBD oil or as much as you are comfortable with. Now, lets talk about what the heck CBD is and how CBD works in the body!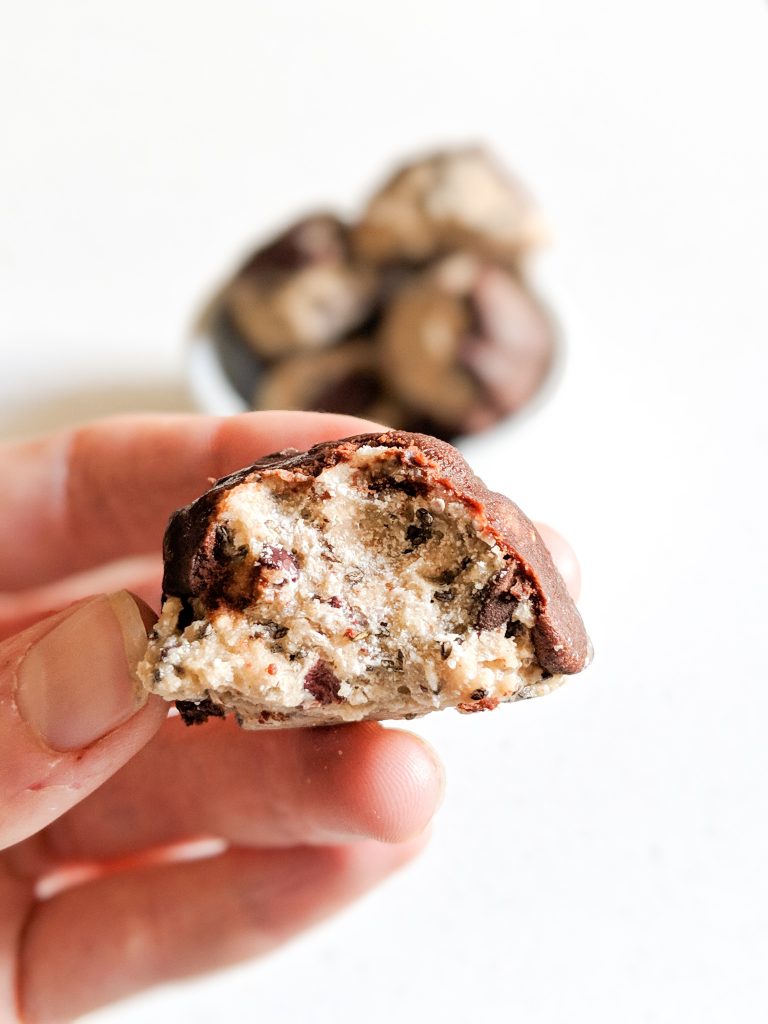 What the heck is CBD?
CBD is one of the compounds found in cannabis. CBD which stands for Cannabidiol has been shown to have tremendous impact on the human body's endocannabinoid system. Cannabinoids in cannabis imitate compounds human bodies naturally produce already, called endocannabinoids. The endocannabinoid system is pretty cool because it's impact on the body is far reaching, from your appetite to pain and mood.
The interesting thing about the endocannabinoid system is that there are cell receptors all over the body. This system passes messages throughout the body from the brain through chemical messengers. Cannabinoids affect the body differently because they each act on different cell receptors. For example, THC, which is one compound in cannabis that is known for that feeling of euphoria and "feeling high" acts on certain cell receptors. Whereas, CBD has no psychoactive affect, which means it does not give you that feeling of "getting high". CBD binds to other cell receptors all over the brain and body which is why it's be shown to be an effective remedy for inflammation, pain, and anxiety.
CBD oil can be an effective herb to use in cases of anxiety, pain relief, and depression. Everyone responds differently to all herbs, supplements, and food, therefore CBD might not be effective for every body. I also recommend starting with a small amount of CBD and slowly increasing the dose as you see fit.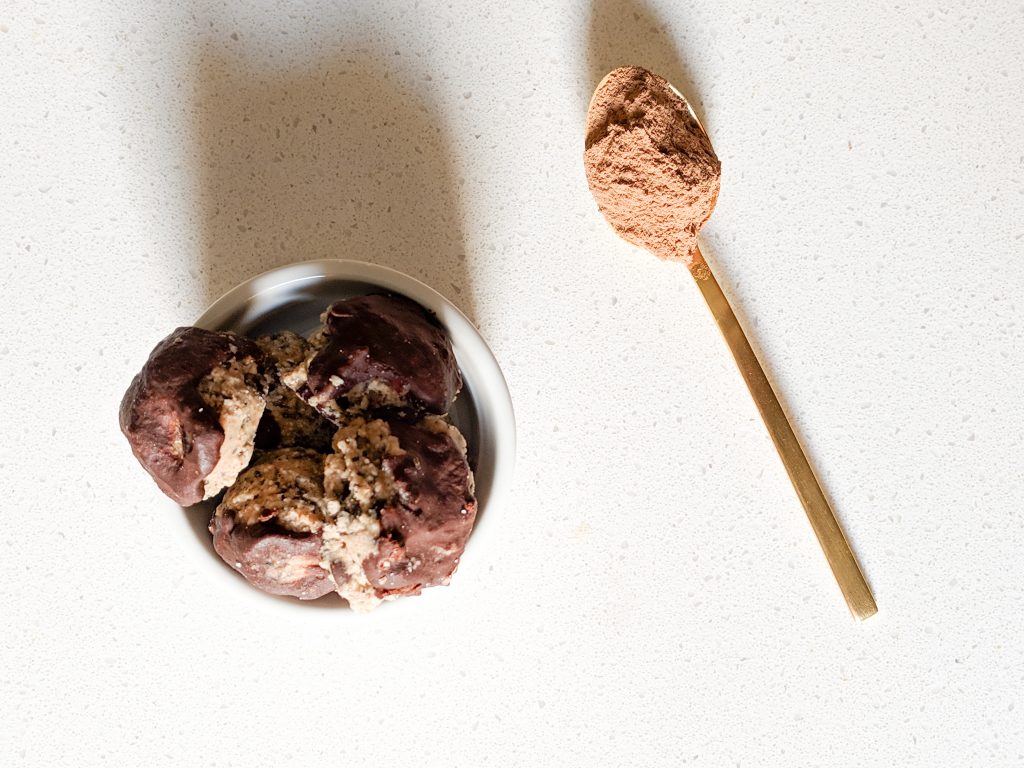 Recipe Notes & Modifications
Please note, in this recipe we used 10mg of CBD per bomb. In the CBD oil we used, there are 10mg of CBD per millilitre. So there is one millilitre of oil per bomb. 10mg is considered the standard dose of CBD, you may also want to use less CBD and work your way up.
If you are wanting to experiment with other herbs or adaptogens in this recipe, feel free! Head over to my blog post all about adaptogens to find the best fit for what you're looking for!
Ingredients
2 cups almond flour
1 cup chia seeds
1/2 cup erythritol
2 tablespoons coconut oil, melted
10mg CBD per bomb (we made 20 bombs so 200mg of CBD)
1/4 cup cocoa nibs
1/4 cup chocolate chips (stevia sweetened)
warm water, as needed
1/2 cup chocolate chips (stevia sweetened) (for coating bombs, optional)
1 tablespoon coconut oil (for chocolate coating, optional)
Instructions
In a bowl, combine flour, chia, and erythritol. In a separate bowl, combine coconut oil and CBD oil and whisk to combine.
Add oils to dry ingredients and stir well to combine. If the mixture isn't sticking together and isn't able to be formed into a ball, slowly add warm water in 1 tablespoon increments. Add in cocoa nibs and chocolate chips, stirring to combine.
Line a baking sheet with parchment paper. Make golf ball sized bombs. Place rolled bombs on the parchment paper and free for at least 15-20 minutes.
Optionally, in a sauce pan melt 1/2 cup chocolate chips and 1 tablespoon coconut oil. Dip each bomb in melted chocolate and return to parchment. Put bombs back in the freezer for 15 minutes.
Transfer bombs to an airtight container or resealable bag and store in freezer. Let defrost 5-10 minutes before eating.
https://elizabethraybould.com/cbd-fat-bombs/