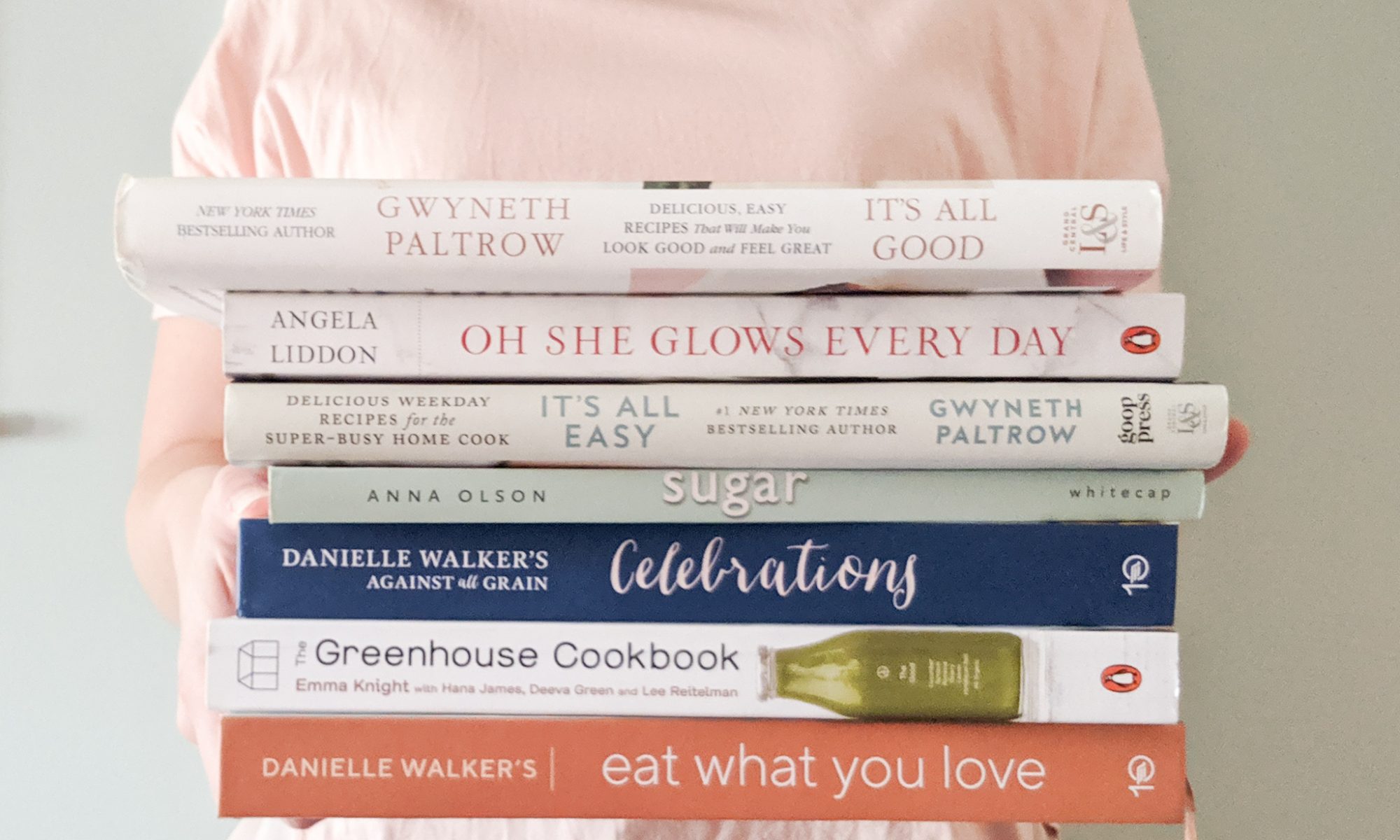 ---
One of the most frequent question I get asked is what my favourite cookbooks are. Honestly, I reach for the same 6 cookbooks all. the. time. I thought I should share what those cookbooks are, because they are foundational in my kitchen. Here is my cookbook round up!
I love cookbooks. I own a bookcase full and gather inspiration all the time. Although I don't often follow recipes, I use cookbooks as inspiration for what direction to go, as templates for grain-free/gluten-free baking, and to spark my own imagination. For example, these Classic Lemon Squares were inspired by a recipe in Sugar by Anna Olson. Although I have loads of cookbooks, I find I always pull the same ones out. You know its a keeper when it has stains on the pages, crumbs in the spine, and the spine is broken from spreading it open on the counter top.
I don't often look online for recipes (which may surprise you). I love the feeling of picking up a cookbook and flipping through the pages to find something that sparks my tastebuds and can't possibly be overlooked. More often than not, I don't have all the ingredients on hand so I use the recipe as a template or as inspiration and I put my own spin on the recipe.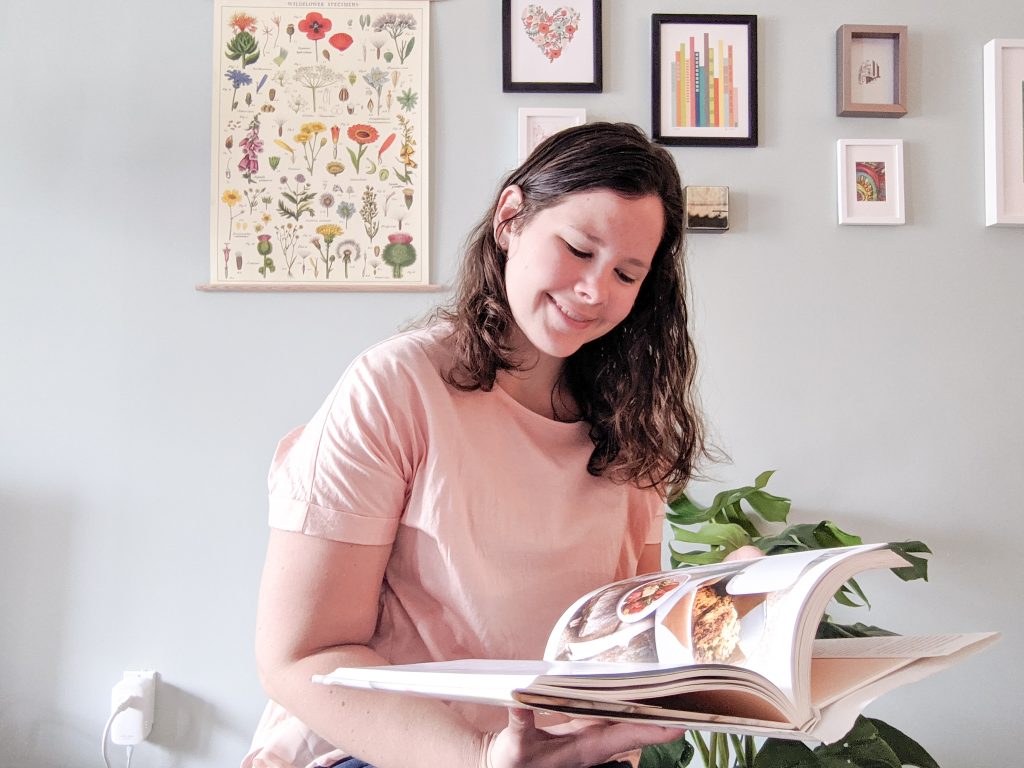 Do you use cookbooks or do you find recipes online?
Let me know in the comments!
Let's get to it! These are my stained, smudged, crumb-filled, broken-spine go-to cookbooks that I reach for time and time again.
Cookbook Round-Up
It's All Good by Gwyneth Paltrow: I love this book. Cookbook author, CEO of Goop, actor, this woman is amazing! The recipes in this book are interesting and use unique ingredients. It fits a myriad of different diets and I love how it's divided into ingredients which I like. For example, there's a whole poultry chapter, game chapter, grain chapter, etc. I find this layout makes it really easy to find recipes and plan your meal based on what you have in your fridge or pantry.
It's All Easy by Gwyneth Paltrow: Yes, another Gwyneth Paltrow book! I love her approach to cooking and eating. It's all healthy food that tastes REALLY good and is relatively simple. This book, as opposed to It's All Good is broken up seasonally. More like, Summer Nights, Unexpected Guests, Winter Comfort Food.
Celebrations by Danielle Walker: If you are on the hunt for a grain-free, anti-inflammatory amazing cookbook, look no further. This book by acclaimed Against All Grain founder Danielle Walker is packed full of flavourful, beautiful recipes that are completely grain-free and paleo compliant. This is the book I reach for whenever I'm cooking something for a celebration (as the title suggests) or a special event. The Lemon Lavender Bundt Cake is to die for.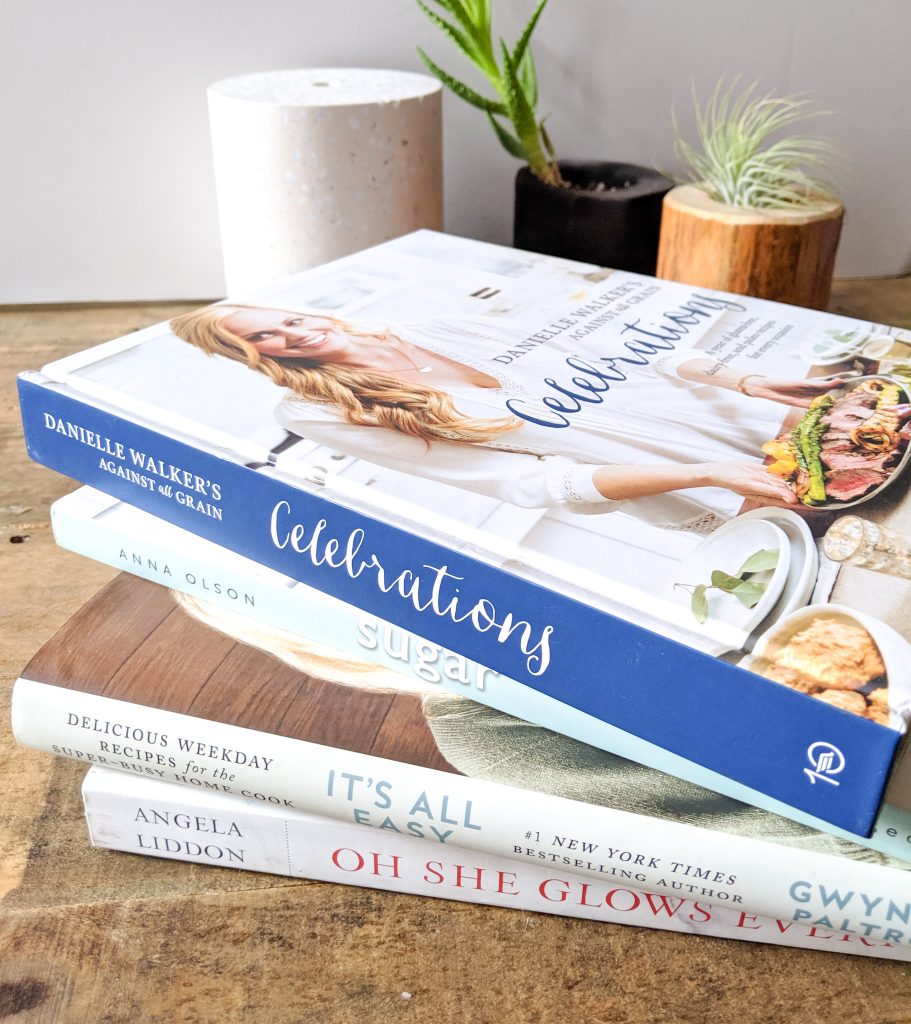 Eat What You Love by Danielle Walker: This book is wonderful because it highlights all the recipes that you miss on specific diets, like paleo or grain-free. From waffles to pizza to chicken pot pie and even bagels, this book packs a punch. I also love that there's an entire chapter dedicated to make ahead dishes!
Greenhouse Cookbook: This cookbook is gold for vegan and gluten free recipes. I'm not vegan as I'm sure you are aware, but I love when recipes offer super interesting, creative ways to cook with more vegetables and nuts and seeds. I also love that this cookbook focuses on whole foods from start to finish, so everything is super nutrient dense as well!
Oh She Glows Everyday by Angela Liddon: Love the Oh She Glows collection, the blog and both books are amazing. The desserts in this book are to die for. The smoothies and bowls are super creative and delicious. It's a winner through and through.
Sugar by Anna Olson: so this is 100% full of gluten and sugar and butter, yet I reach for this book time and time again. I find it full of inspiration for recipes that I want to make gluten or grain-free and refined sugar free. I made my first ever chocolate souffles from this book, so I think it just has a special place in my heart. Oh goodness, now I want chocolate souffle!
What is your favourite cookbook?
Leave your recommendations in the comments!