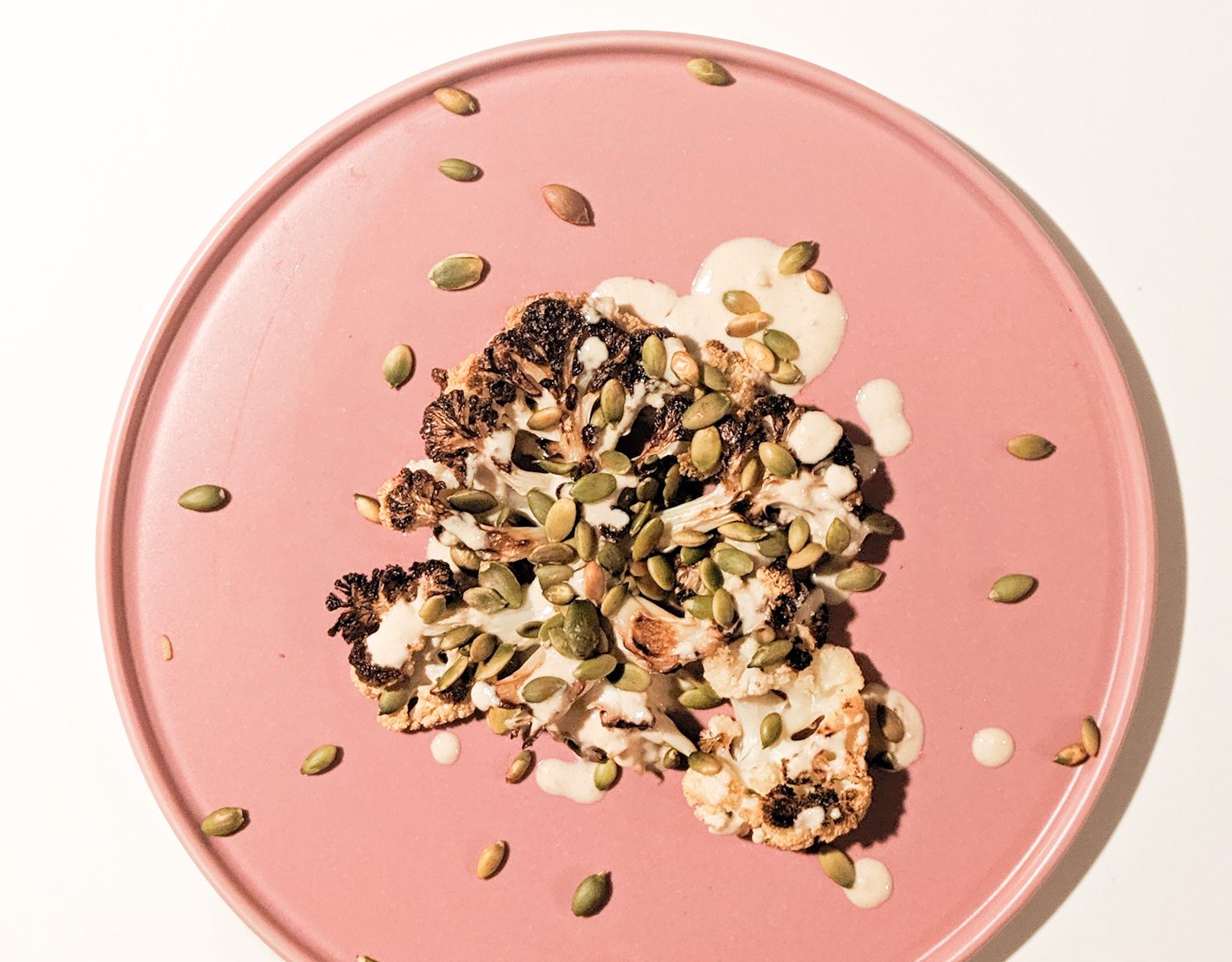 ---
Crispy Tahini Cauliflower
Crispy tahini cauliflower is life changing. I know that may *sound* a bit dramatic, but this recipe for Crispy Tahini Cauliflower will actually change everything you know about this sometimes boring, repetitive vegetable. I know that I've written multiple blog posts in which I've mentioned how amazing cauliflower is for your detox pathways. I'll be the first person to tell you that cauliflower can get tired real fast. Steamed cauliflower is literally the least flavourful thing ever. Raw cauliflower definitely requires some dippity-dip. But roasted cauliflower, when done correctly, is the most addictive thing ever.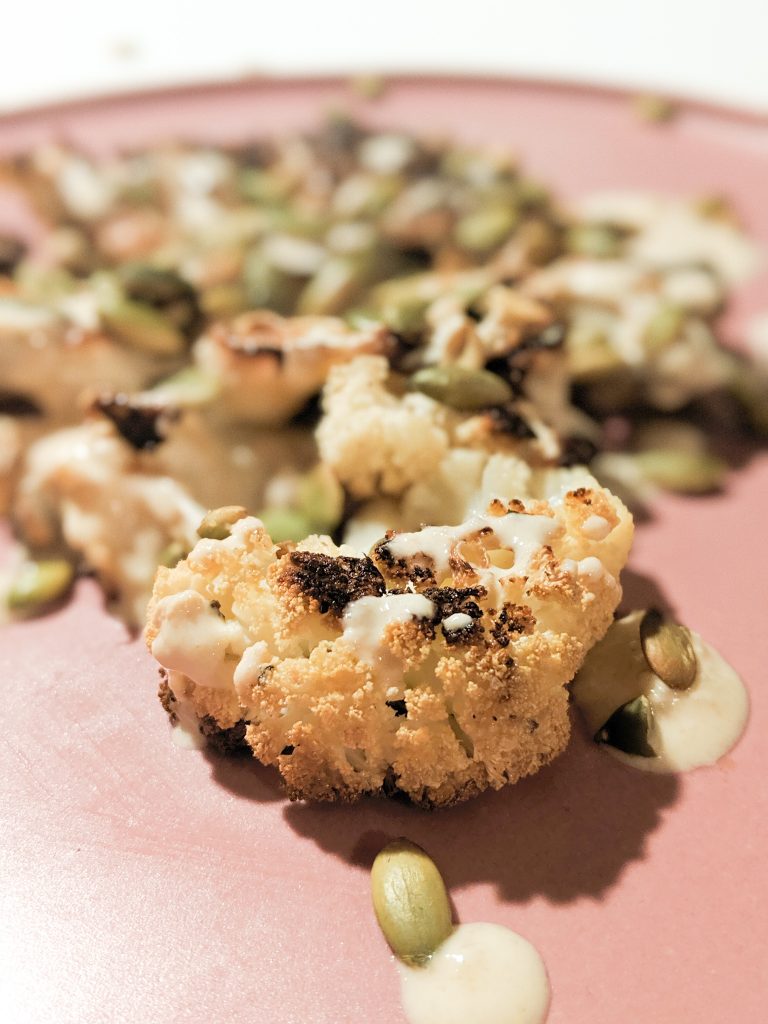 The recipe is also so delicious because of the layers of flavour and texture. The creamy, garlic-y tahini dressing adds so much flavour to the roasted cauliflower. Next, I love to generously sprinkle a handful or two of toasted, crunchy pumpkin seeds on top of the dish. Pumpkin seeds are an amazing source of zinc. If you're struggling with hormonal acne or PCOS zinc is going to be your new bestie.
Cauliflower is essential for healthy hormones which is why I love to come up with new and interesting ways to use it! To ensure crispy cauliflower, make sure the pan isn't overcrowded and the cauliflower has room to breath, so to speak. Ensuring the cauliflower is coated in oil is also important for crisping it up!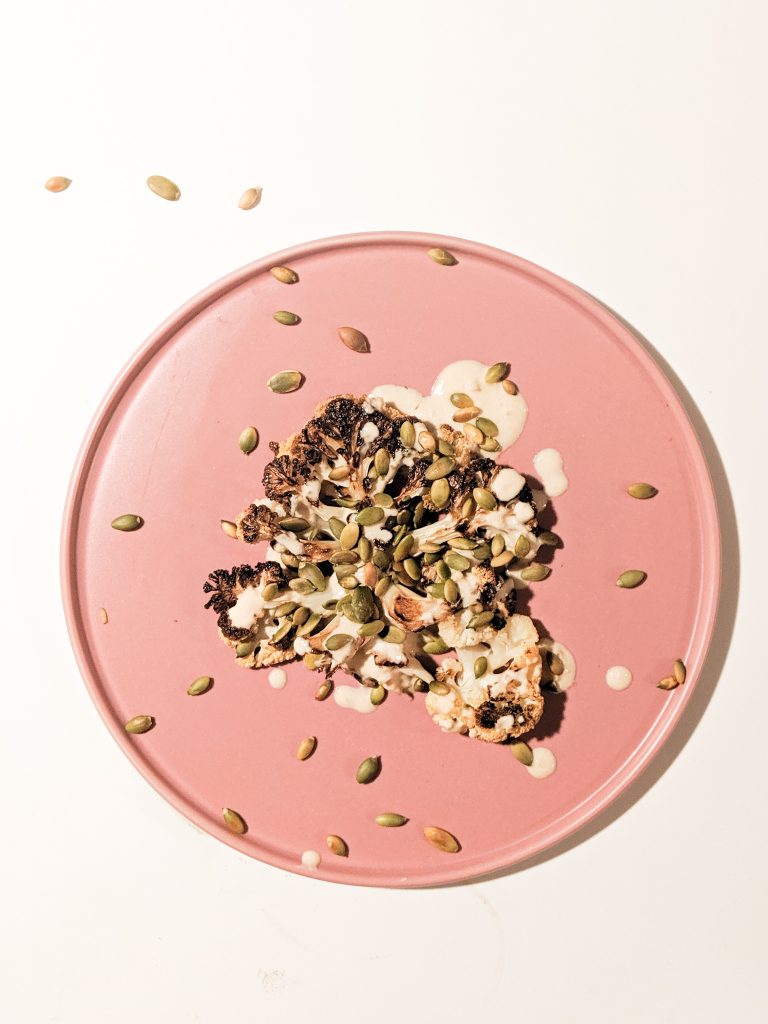 For your cauliflower, there are a few ways to cut it. First, you can cut your as steaks, to do this, keep the core in and the slice your cauliflower vertically. The second, easier way to cut your cauliflower is as florets. The instructions for the recipe are identical, it's just up to you how you want to cut your cauliflower, steaks or florets?
Crispy Tahini Cauliflower
Ingredients
1 head cauliflower, either chopped in steaks or florets
1 tablespoon olive oil or avocado oil
1 teaspoon sea salt
1/2 cup tahini
2-3 tablespoons water
2 garlic cloves, minced
1/2 cup pumpkin seeds
Instructions
Preheat oven to 375ºF. On a baking sheet, place cauliflower steaks or florets. Toss in oil and sea salt. Make sure the cauliflower has space to breath to ensure it gets super crispy!
Bake for 35-45 minutes or until golden brown.
While the cauliflower is roasting, make the tahini sauce. In a bowl, combine tahini, garlic, and water. Whisk to combine, add more water if you want a more liquid-y sauce.
Toast your pumpkin seeds in a pan over medium heat until golden brown.
On a serving platter place cauliflower, then drizzle tahini sauce and top with toasted pumpkin seeds.
https://elizabethraybould.com/crispy-tahini-cauliflower/