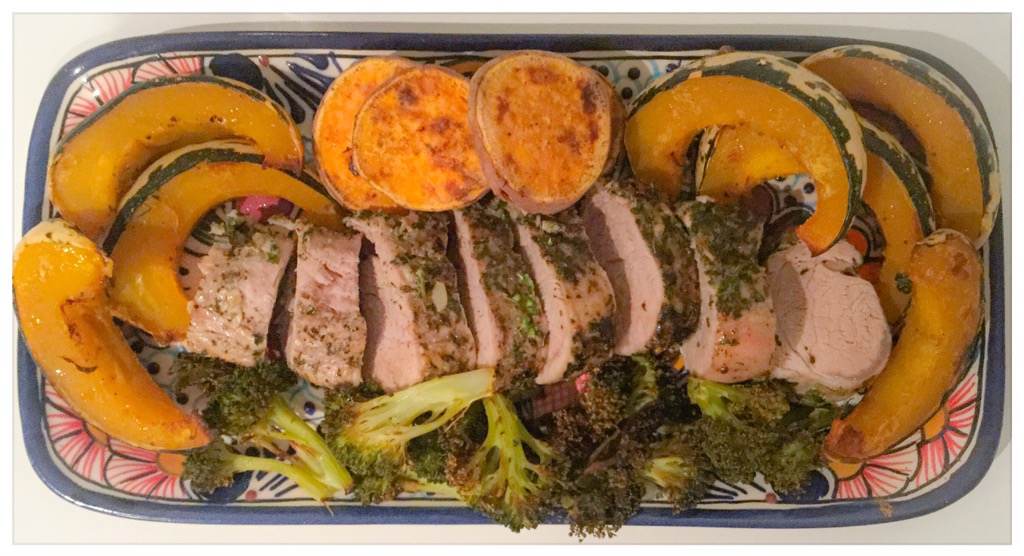 ---
Herb Crusted Pork Tenderloin
This is a perfect Fall dinner recipe that can be prepped in advance and then thrown in the oven for a healthy, Paleo meal. It's also delicious in the Winter, Spring and Summer for that matter, what makes it seasonal is what you make as side dishes.
Pork, especially tenderloins, are lean, relatively low in calories, rich in selenium which helps regulate metabolism by controlling the activity of thyroid hormones. Pork tenderloin is also rich in phosphorus, which helps control enzyme activity, enzymes are crucial for strong bone tissue.
This recipe pairs really well with roasted veggies in the fall. I love it with roasted curried squash, sweet potato, broccoli and brussels sprouts. Find this recipe on the blog under recipes.
Pork Tenderloin Recipe:
Ingredients
1                              Pork Tenderloin (1 Tenderloin feeds 2-3 people)
1                              Garlic Clove, minced
1/4 Cup                 Fresh Basil, chopped
4-5 Leaves          Fresh Thai Basil, Chopped
1 TBSP                  Dried Italian Herbs Blend (Salt-Free)
1 TBSP                  Fresh Ground Black Pepper
2 TSP                    Sunflower Oil
Instructions
Combine garlic, herbs, pepper, and oil in a large Ziploc bag. Once the marinade is mixed up a bit, put your pork tenderloin into bag with marinade and close the bag. Smush marinade into pork, trying to get the marinade spread all over pork.
Let the pork sit in marinade at least 30 minutes, but the longer the better, you can definitely let the pork marinate overnight, or make the marinade up the night before and put the pork in the bag in the morning to cook it that night.
Preheat oven to 350°F. Place your Pork Tenderloin, coated with the beautiful herb marinade, onto a parchment lined baking sheet, we use a clay baking sheet from Pampered Chef to ensure even baking.
Bake for 45 minutes – 1 hour. When cooked through the juices will run clear.
Serve with your favourite side dishes.
Bon Appétit!