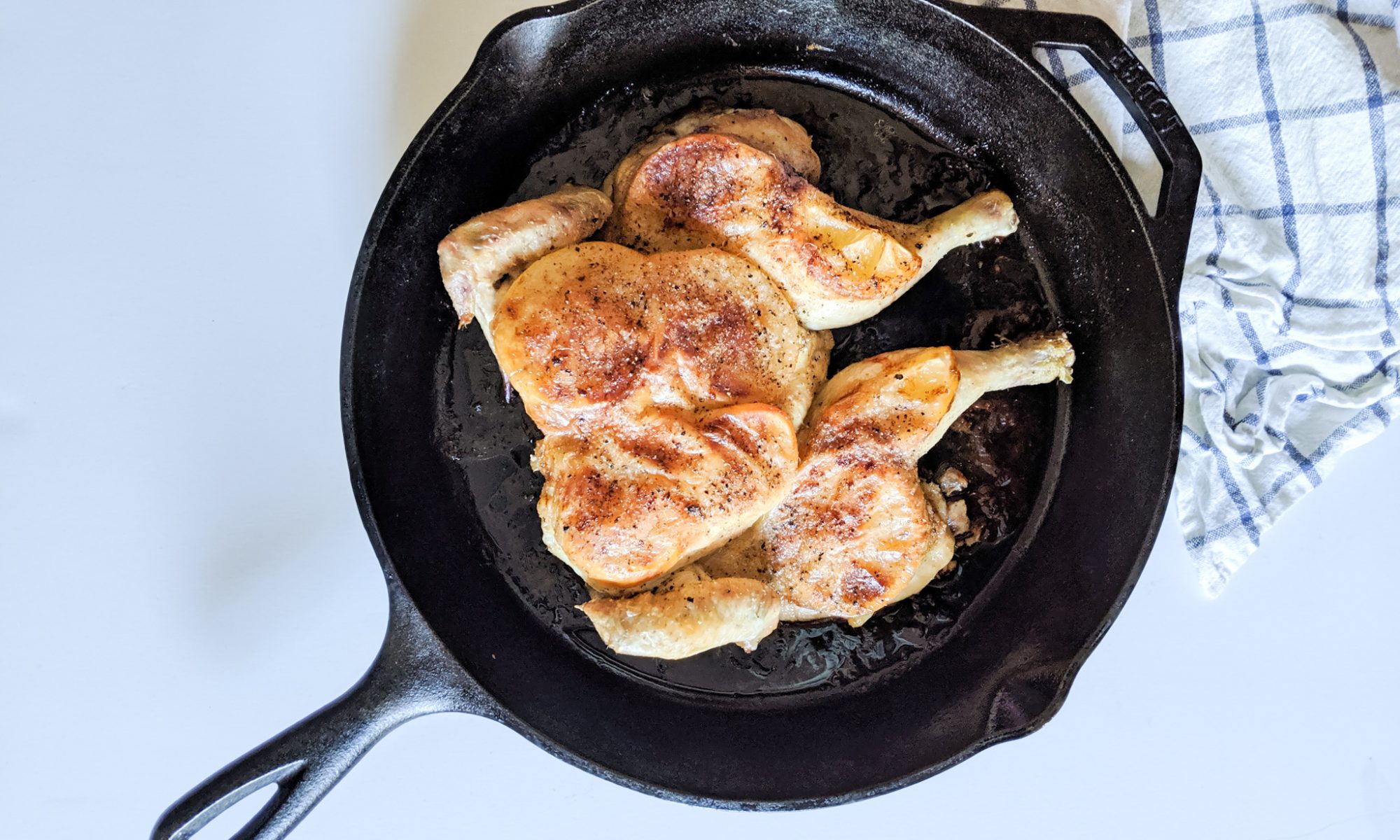 ---
Lemon Garlic Roast Chicken
My friends know that when they come over for dinner, we'll likely be having roast chicken. Honestly, roasting a chicken, especially when you butterfly it is so simple. Plus, there are so many ways to change it up. I love this Lemon Garlic Roast Chicken it's fresh with the lemon and the garlic gets SUPER sweet as the chicken roasts.
Entertaining Etiquette
Here's the thing my mum taught me about entertaining, my grandmother was the master of entertaining and now my mum has taken the reins. My mum always says, cook something that you can forget about. Something that you can throw in the oven and walk away and spend time with your guests. Whether it's something easy like a roast or something you've prepared ahead of time like lasagna or pulled pork.
When your guests come over, what's worse than you being held hostage in the kitchen, cooking up a storm? Whenever I make a roast chicken and we have guests I prep it in advance and throw it in the oven when people get to my house. That gives us an hour to an hour and a half without slaving over a hot stove.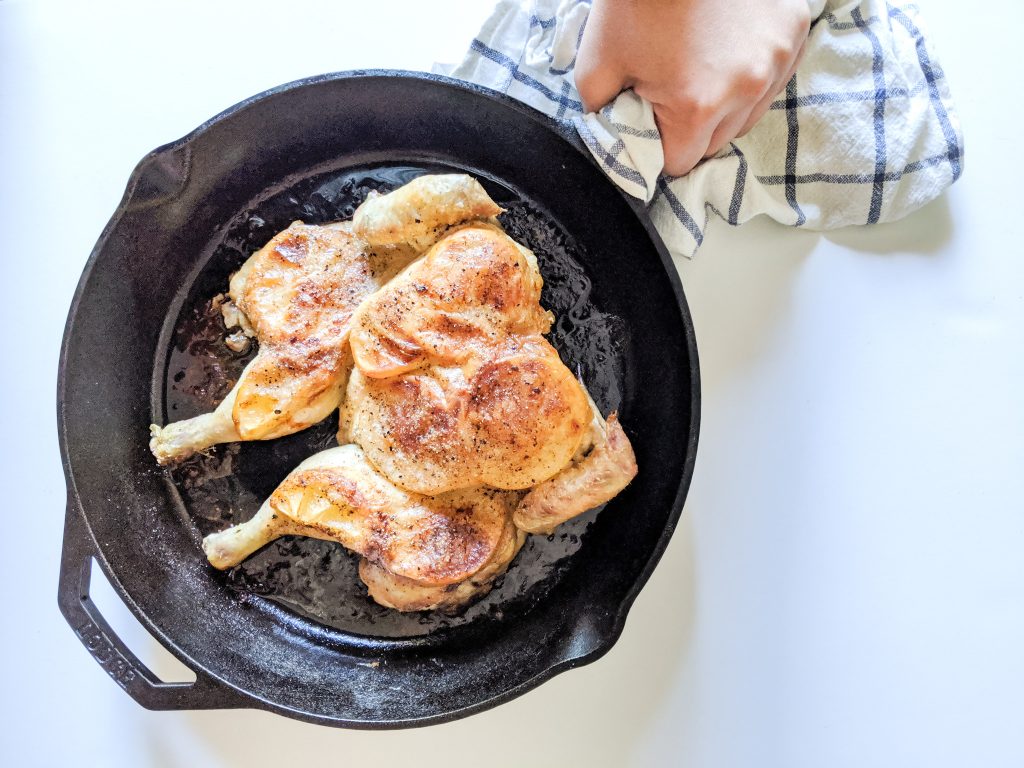 Meal Prepping
When you're coming up with meals to make your day to day life easier, whole roasted chicken should definitely be at the top of the list. It is so simple to make but it's also very versatile.
From sandwiches, salads, and soups. Roast chicken is going to be your new best friend when it comes to fast lunches and easy dinners. Plus, it's an inexpensive way to go about meals. An organic, free range chicken will cost you around $15-$20, you'll easy get 4 meals out of it and then you can save all the bones to make chicken broth. That works out to less that $5 per serving and zero food waste, is that a win-win or what?!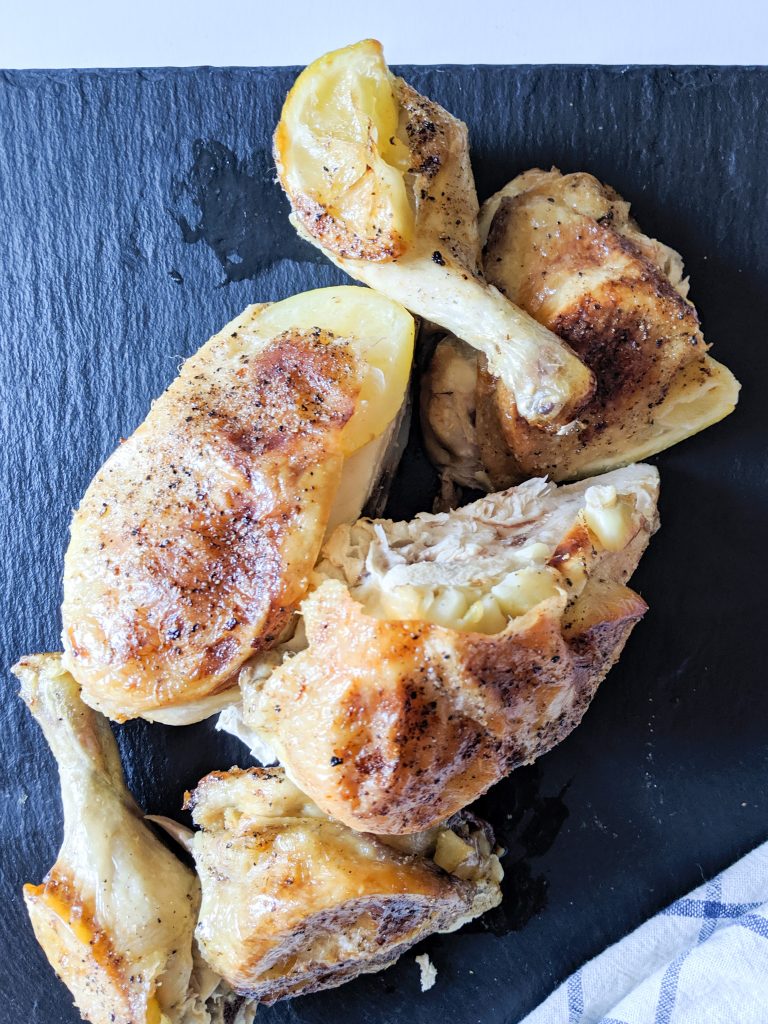 Make it like so
The recipe is for a butterflied chicken. To achieve a flattened or butterflied chicken, simply cut out the back bone with a sharp pair of kitchen scissors or knife. Here's a video on how to butterfly a chicken! Or the easiest option is to ask your butcher to take the backbone out for you! Make sure you save the backbone to make the most wonderful chicken broth! Once the backbone of the chicken is removed, lie your chicken down on a board or in the roasting pan, skin side up. Using the heel of your hand, crack the breast bone to ensure your chicken lies flat. You can also ask your butcher to flatten the chicken for you to make it easy peasy, lemon squeezy!
The perfect accompaniments for roast chicken are roasted broccoli or squash or roast potatoes. I also like to pair it with a salad or slaw for some crunch. Plus, protein (chicken) and fibre (veggies) make the perfect hormone balancing meal! Want even more hormone balancing meals?
Download your Eat to Thrive Meal Plan here: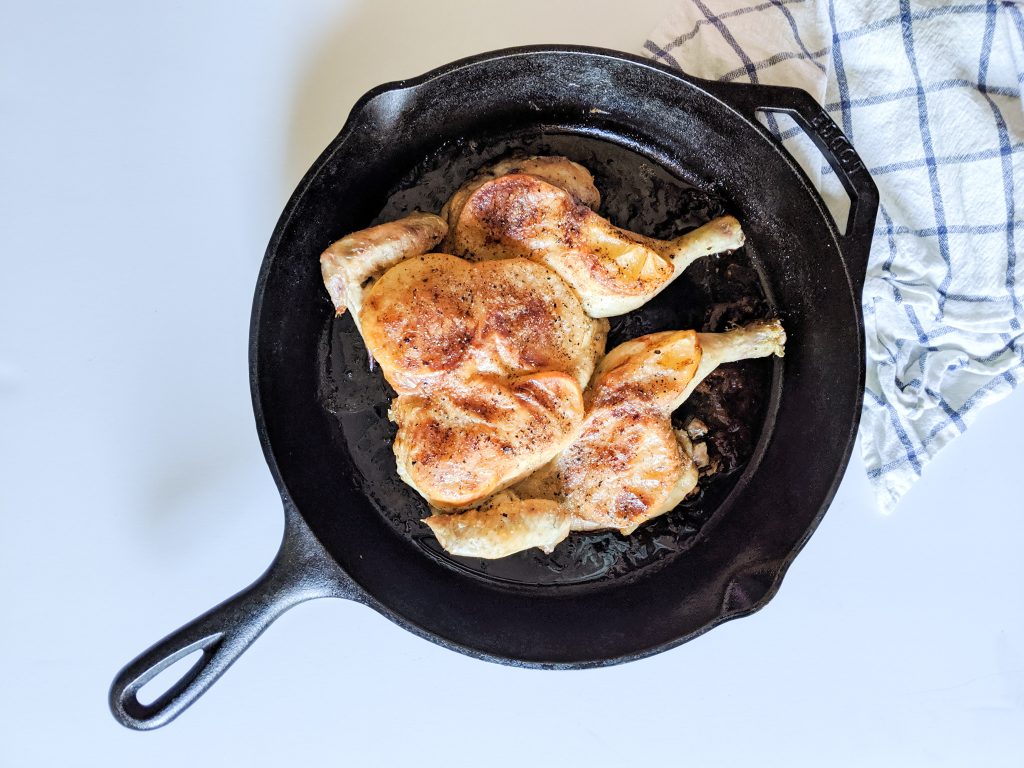 Lemon Garlic Roast Chicken
Ingredients
1 whole chicken, butterflied
1 lemon, sliced
3 garlic cloves, smashed
1 tablespoon avocado oil
1 teaspoon Himalayan pink salt
1 teaspoon ground pepper
Instructions
Preheat oven to 400ºF.
In a roasting pan or large cast iron pan, place chicken skin side up.
Using your fingers, separate the skin from the chicken. Place lemon slices underneath the chicken skin all over the chicken. Then place the smashed garlic cloves underneath the skin as well. Replace and cover the lemon and garlic back up with the skin.
Drizzle oil overtop of the skin all over the top of the chicken. Sprinkle generously with salt and pepper.
Place in oven at 400ºF.
After 30 minutes, reduce heat to 350ºF. Baste the chicken using a spoon with the chicken juices in the base of the pan.
Continue cooking for 30-50 minutes or until all fluids run clear and the internal temperature reaches 165ºF.
Let rest for 10 minutes and then serve alongside your favourite side dishes!
https://elizabethraybould.com/lemon-garlic-roast-chicken/