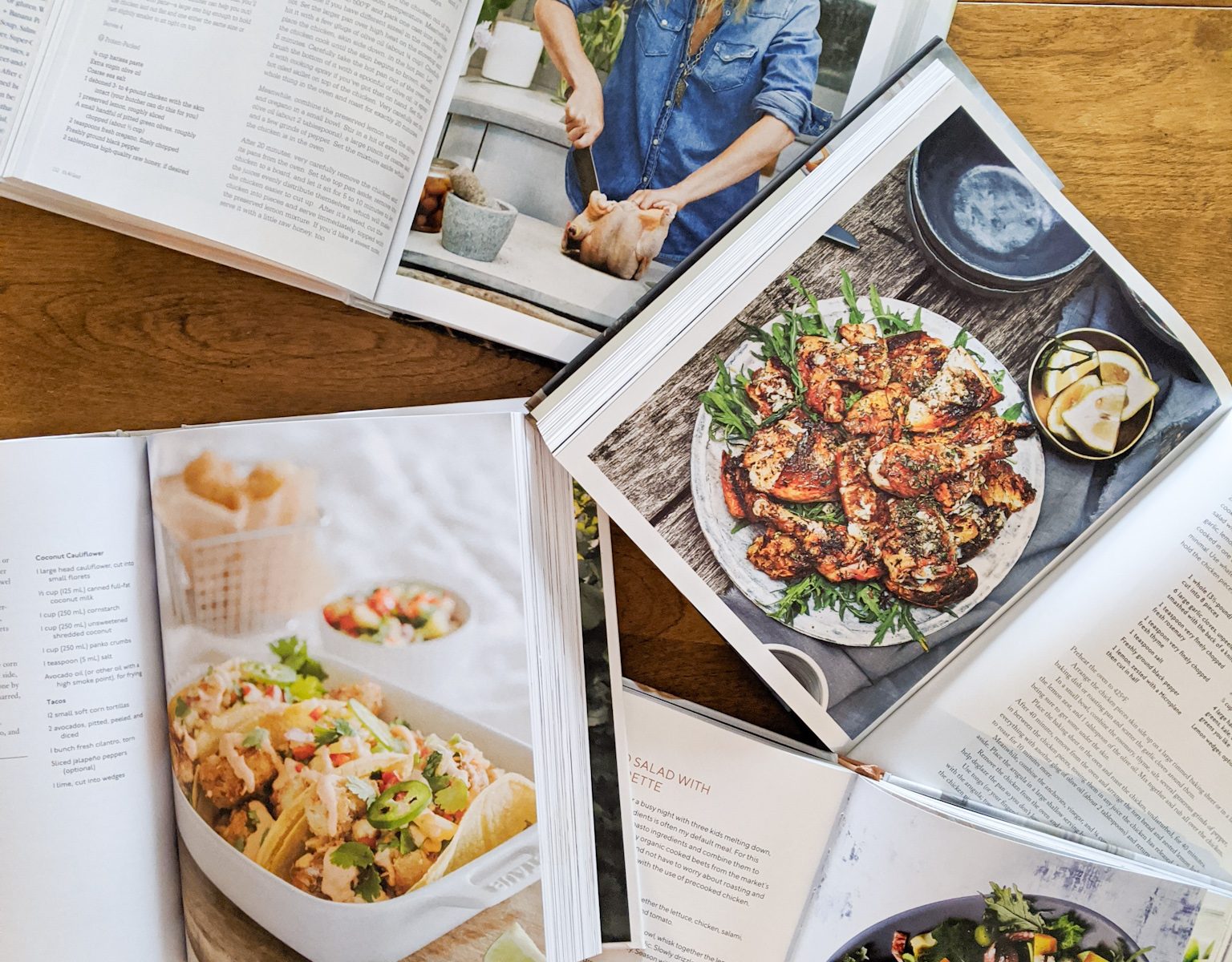 ---
Meal Plan for One Month in One Hour
If you've read any of my blog posts in the past, you'll know that I have never considered myself a meal planner and don't love a meal plan. Mind you, I make stellar meal plans for clients and I get endless compliments. Honestly, I love creating meal plans. I used to create meal plans for myself too, but I never actually followed them for more than a couple days. It's like that New Year Resolution that you conveniently forget about less than two weeks after January starts.
A week ago I shared on Instagram that I had made a new recipe every night for 5 days straight. I got a bunch of DMs and people kept coming up to me saying, "oh my gosh, my new year goal is to try new recipes too". Other people asked "how are you making so many new recipes during busy weeknights." I thought I'd share my method.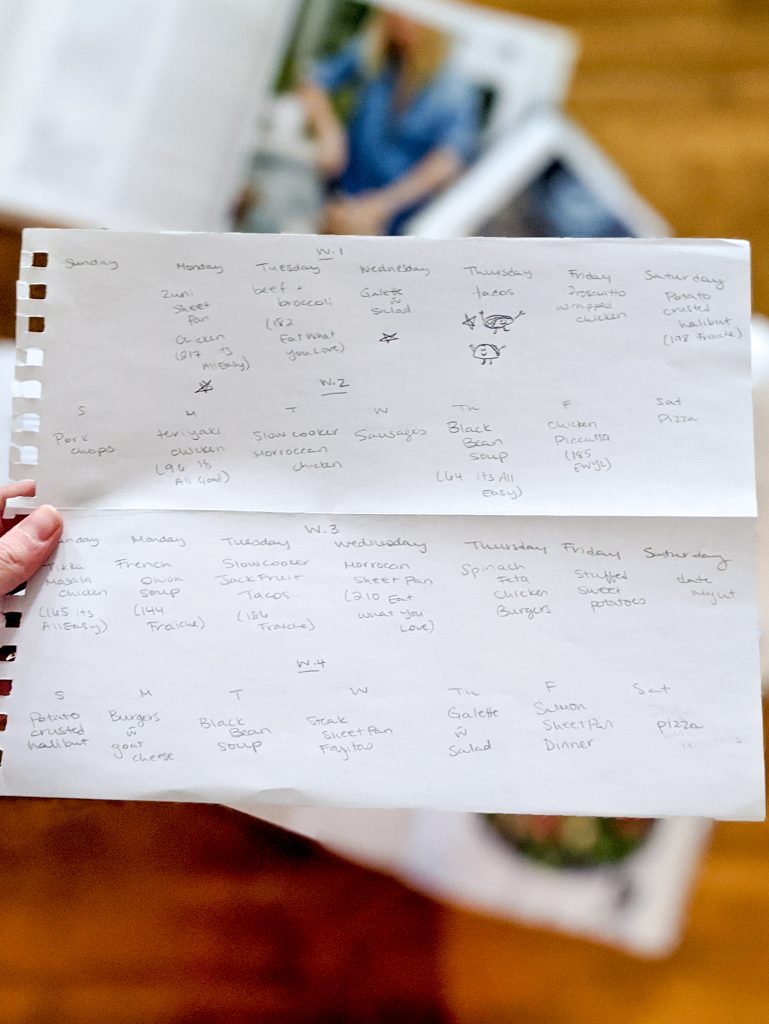 Meal Plan – How To
Step 1
The trick is to PLAN. Sit down with your favourite cookbooks or food magazines or Pinterest or food blogs. Write down on a blank piece of paper all the recipes you see that excite you. Try to find about 20-30 fun recipes. I have a ton of cookbooks, but these four cookbooks were where all of the new recipes came from. It's All Good by Gwyneth Paltrow, Eat What You Love by Danielle Walker, It's All Easy by Gwyneth Paltrow, and Fraiche Food Full Hearts by Jillian Harris and Tori Wesszer.
Step 2
Take another blank piece of paper and divide it horizontally into 4 rows. Then across the top of the page write the days of the week spacing them out relatively equally.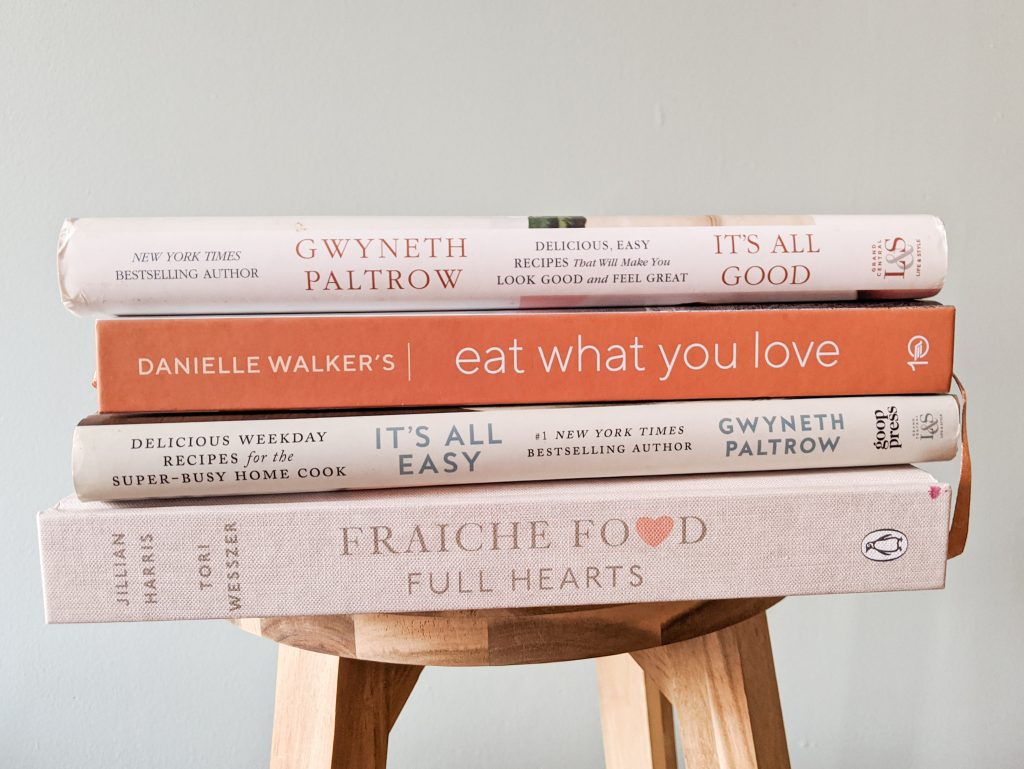 Step 3
Next, take the list that you created with all those delicious, mouth-watering recipes and slot them into your plan. Try to keep in mind the busiest nights of the week, the nights you have more time, when you need leftovers, etc. You can also include staples that you already make (i.e. tacos, stir-fry, breakfast for dinner).
Step 4
For busy nights of the week try to stick to make-ahead meals, slow-cooker recipes, things you can prep in advance or recipes that are fast and familiar. For nights you have more time or you have company over, try a new recipe that may seem like it'll take more time (whether it's active prep time or cooking time). When you know you need leftovers the next day, try sheet pan dinners, fish with salad and veg, stews.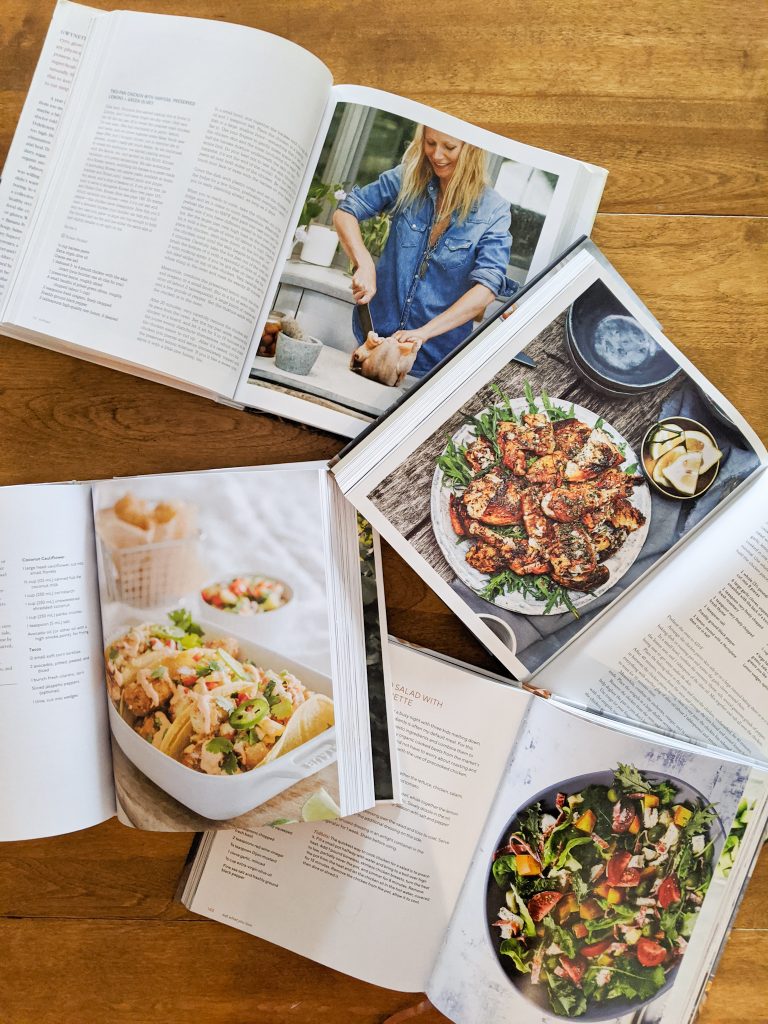 Month at a Glance
At the beginning of January, I created our month long meal plan complete with a ton of brand new recipes that I've never tried before. You can see my entire month at a glance when you scroll down!
Tips & Tricks
1) On your month at a glance/meal plan include where the recipe is. For example: Fraiche Food Full Hearts page 121. That way it's super easy to find when it's time to make it.

2) Grocery shop! Whether you head to a conventional grocery store once or twice a week or you use local butchers, produce delivery, etc. Make sure you have the ingredients on hand for the week ahead.

3) Cook in bulk! When you make a soup or stew or chili double the recipe to freeze. If you make pizza dough, double it and freeze half for a spontaneous pizza night.

4) When you love a new recipe, draw a star next to it, highlight it, put a sticker on it, or as Topher enjoyed doing, draw a taco man. Indicating which recipes were favourites will help when your planning your next month. You can incorporate your faves from the last month into your new plan.

4) Take healthy shortcuts. Using pre-made items doesn't have to be unhealthy, but it can make your life a heck of a lot easier. A few of my staples are:
Good Food for Good Sauces
Wholly Veggie Frozen Pizza Crust
Sunflower Kitchen sauces and condiments
5) Keep your meal plan in a high traffic spot. We have our monthly meal plan on our fridge, but wherever you'll see it, is a great spot to keep it.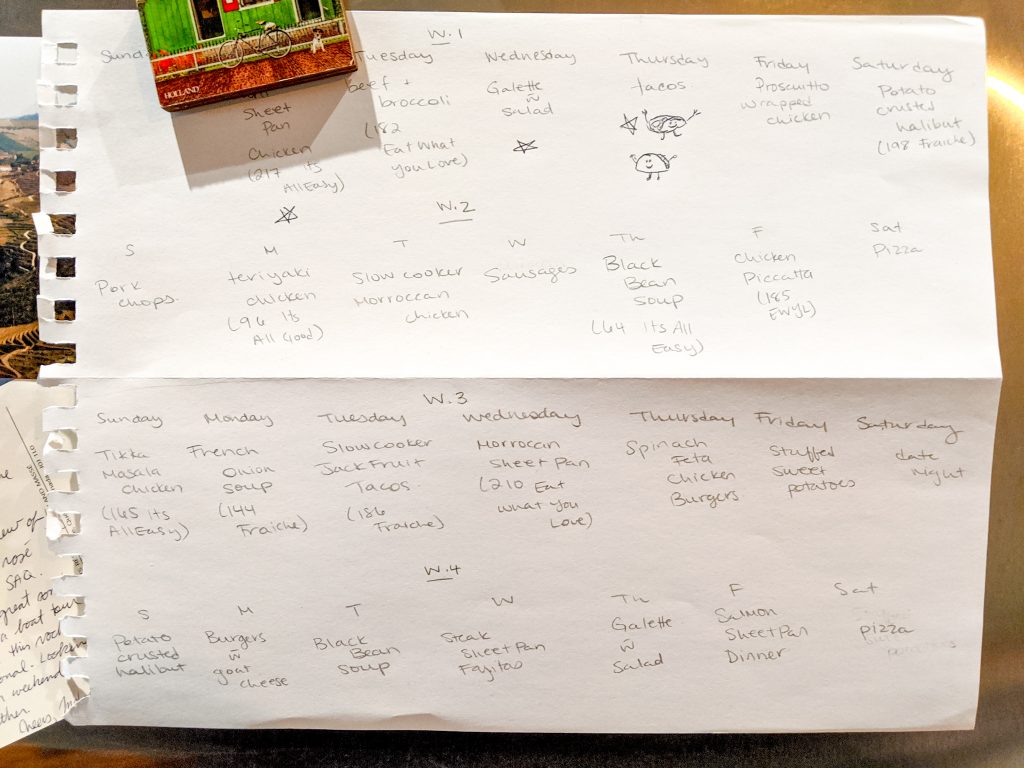 I have been LOVING this method of meal planning. It has sparked my creavitivty in the kitchen and re-ignited my love of cooking. I hope this post and method inspires you to get back into the kitchen and try a new recipe or two! If you need cookbook inspo, check out this post!
If you try meal planning, I'd LOVE to see it, make sure you tag me on Instagram @elizabethraybouldwellness so I can cheer you on!