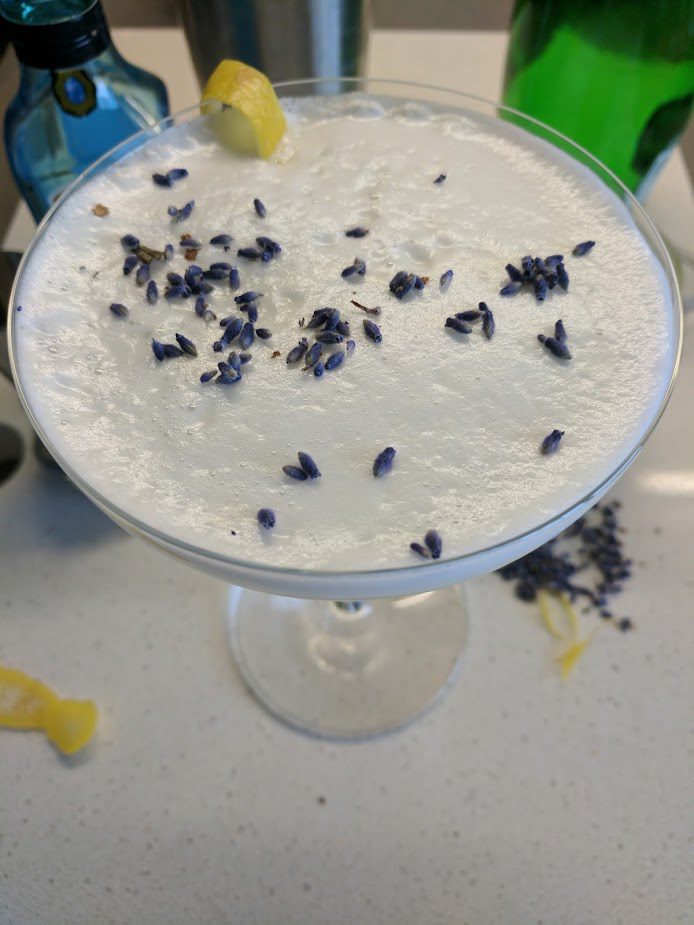 ---
What a year! To help you ring in 2017, Topher (my mixologist/boyfriend) has created some amazing cocktails for you. 
This is similar to a whiskey sour, in terms of the egg white and lemon but it's actually a take on a Gin Fizz. This drink is sweet, sour, creamy and delicious!
Lavender Honey Gin Fizz Recipe
Ingredients
Lavender Honey Simple Syrup
2 TBSP Lavender Honey
2 TBSP Water
2 oz Gin ( we used Bombay Sapphire )
1 oz lemon juice
1/2 oz lavender honey simple syrup
1 Egg White
A pinch of lavender flowers
Sparkling water or Club soda
Ice cubes

Instructions
Combine 1 part lavender honey and one part water in a small saucepan and stir over low heat until the honey has dissolved into the water; set the mixture aside in the fridge to chill.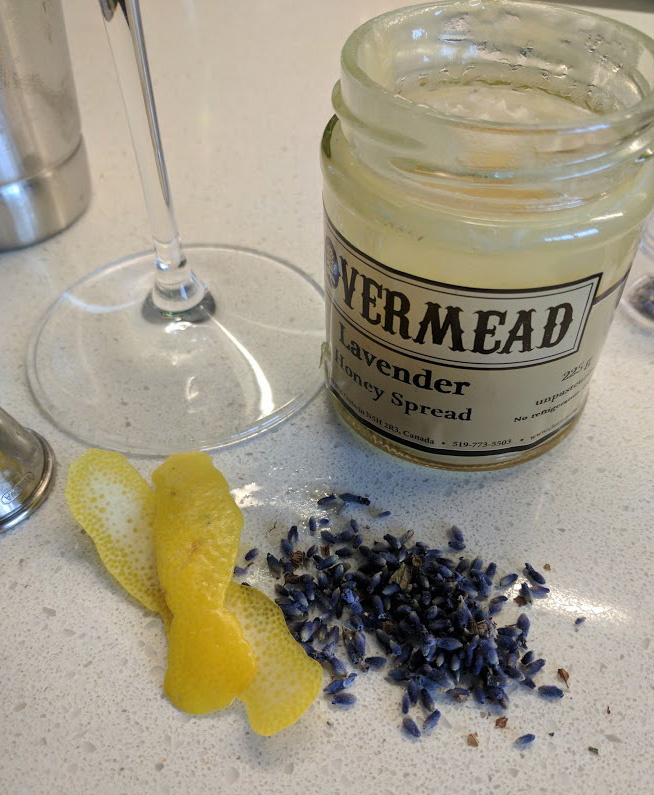 Following the tips from the Ginger Kombucha Mule Recipe, create a few lemon twists for garnishing later.
Juice the lemon into a separate container and measure out 1 oz of the juice using a jigger into a cocktail shaker. Next, measure out 2 oz of gin and add it to the cocktail shaker. Separate out an egg white into the container and save the yolk for New Year's Day breakfast tomorrow. Before adding ice "dry-shake" the ingredients in the cocktail shaker for 10-15 seconds; this lets you create a foamy texture from the egg whites without over chilling, or diluting the drink.
Add a few ice cubes to the shaker, and shake for a few more seconds to cool down the mixture before pouring. Pour the mixture into your glassware of choice; for this drink, we opted for
a cocktail coupe glass, instead of the standard Collin's or fizz glass. Top up the glass with sparkling water or club soda, sprinkle a few lavender flowers on top and garnish the rim with a lemon twist.
Using a wider rimmed cocktail coupe glass gives a more dramatic presentation for the foamy egg whites; and presents the aroma of the lavender petals while you drink, which enhances the flavour of the lavender honey syrup in the drink.
Happy New Year!