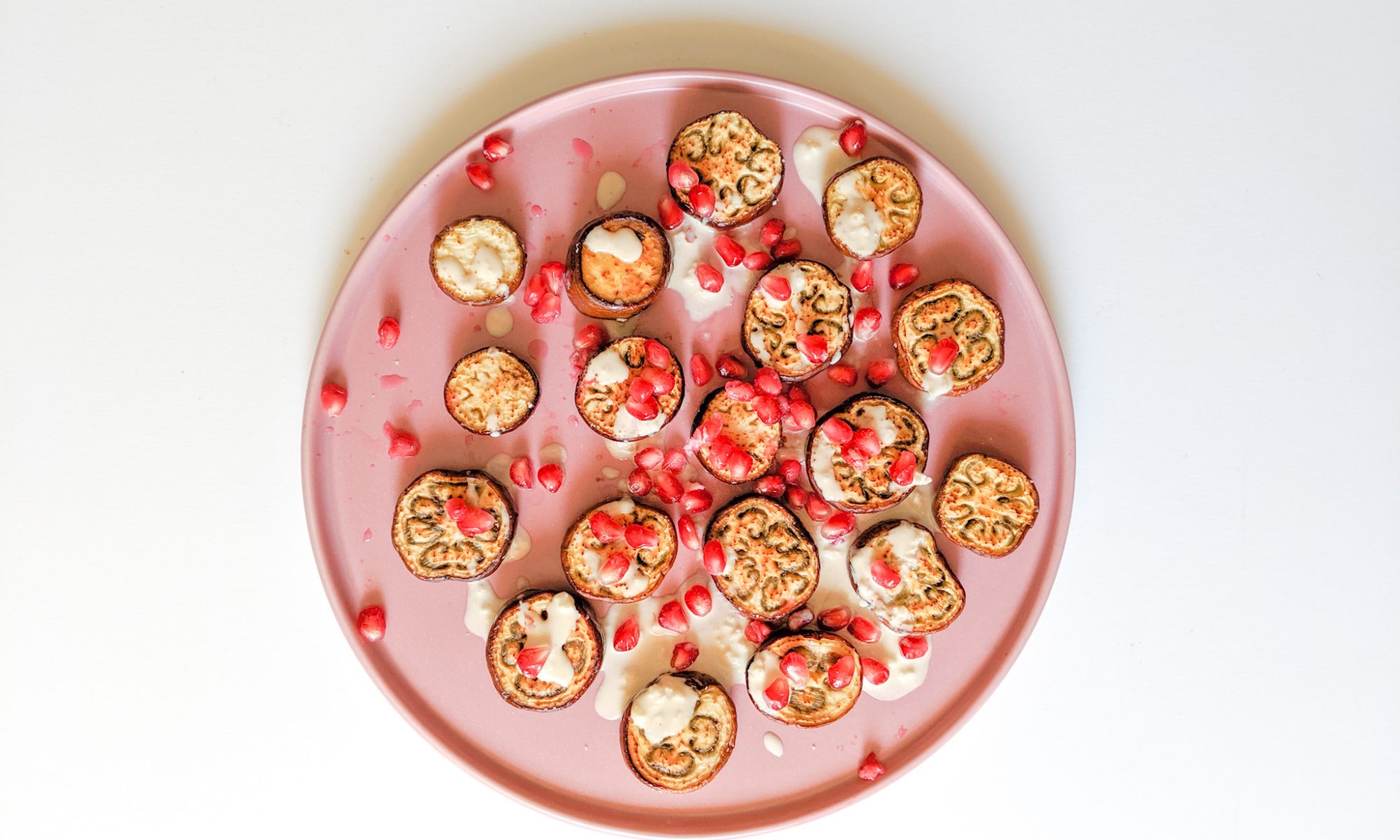 ---
Roasted Eggplant with Tahini Drizzle
Last Friday night Topher and I went on a date to Tabule, a middle eastern restaurant in Toronto. They have a few locations, but the one we went to is about a five minute walk from our place. They have the most flavourful, delicious food. On the menu they have cauliflower with a tahini sauce, tabülè, kefta, labni, babaganüj. I was feeling really inspired by all the delicious food we had that I needed more of it! I made this Middle Eastern inspired Roasted Eggplant with Tahini Drizzle and Pomegranate and it was so delicious that I'm already craving it again!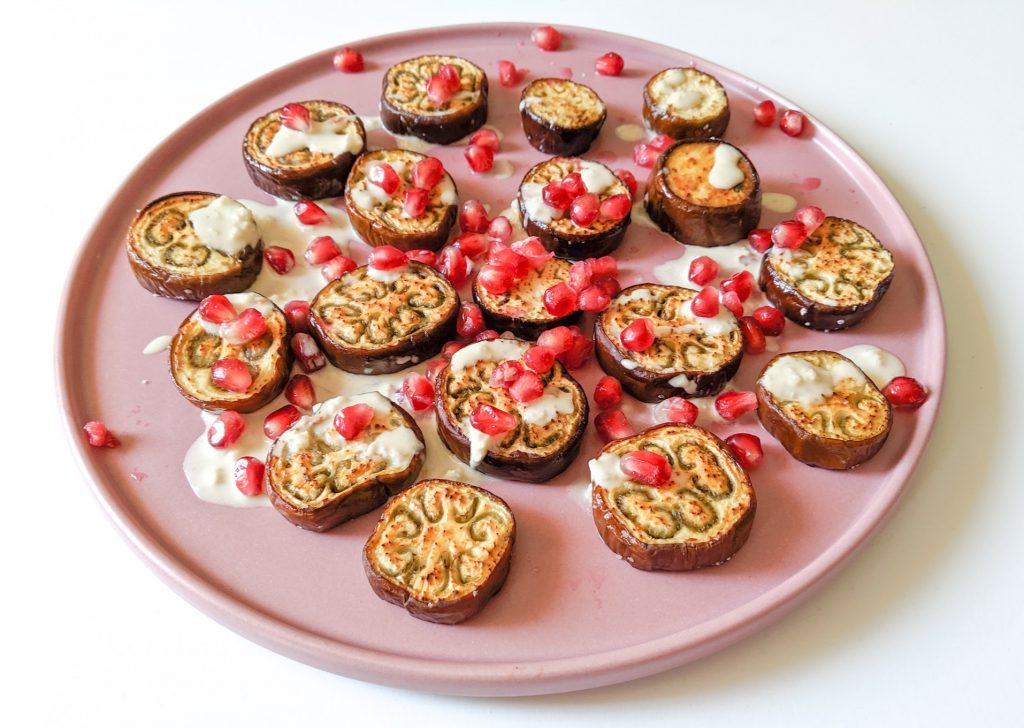 Side note, can we talk about how fun it is to go on dates. I think it's super important to date your partner, no matter how long you've been together. Topher and I have been together almost five years and we've always loved going on dates. Lately as things have gotten busier in both of our lives, we're realizing the importance of connection and dating. We schedule one date night or date day a week, whether that's dinner, drinks, a movie, a walk in the park, doesn't matter. The only rule: no phones.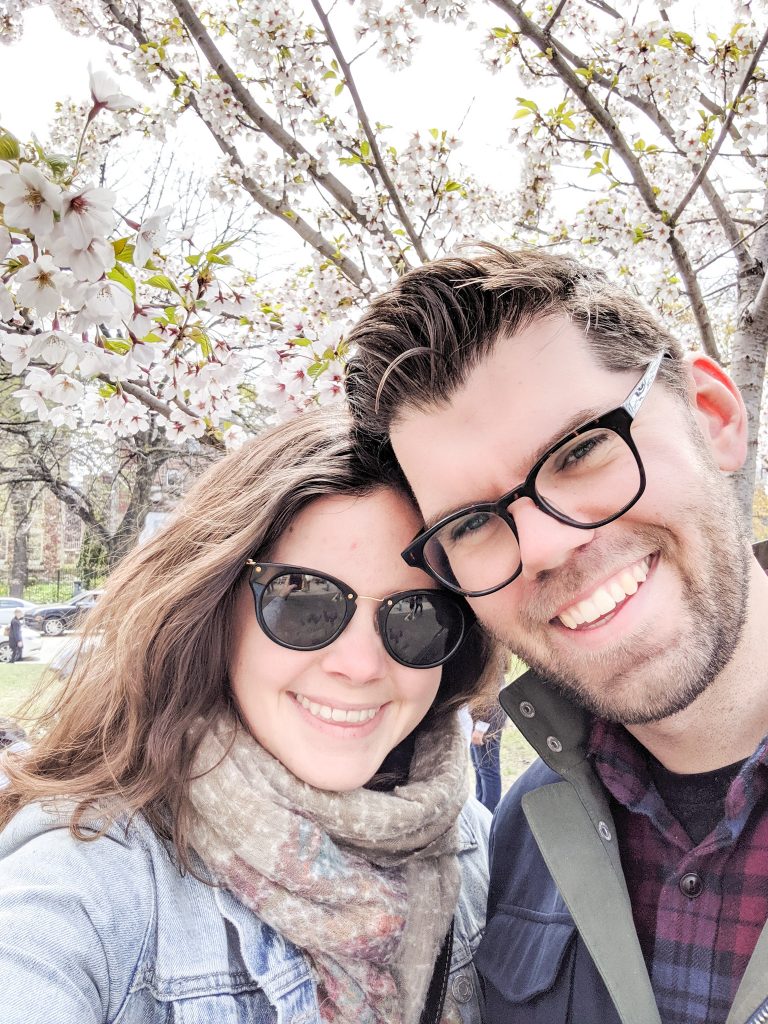 Enjoy like so…
Back to this recipe, it was inspired by our Tabule date and it is one of the simplest, most flavourful things I've ever made. I didn't use any extra seasoning, but if you wanted, smoked paprika, saffron, cumin, or za'atar would be a delicious addition. The key is letting the eggplant get beautifully golden and perfectly soft. This makes the drizzle soak right in and the crunch of the pomegranate contrasts the other textures.
What the heck is Tahini? Tahini is ground sesame seeds. It's a wonderful source of healthy fats, vitamin E, zinc, and is actually the best source of calcium out there. Tahini because it's ground sesame seeds is great if you are doing seed cycling to balance your hormones and get your menstrual cycle back on track. You can learn more about seed cycling here.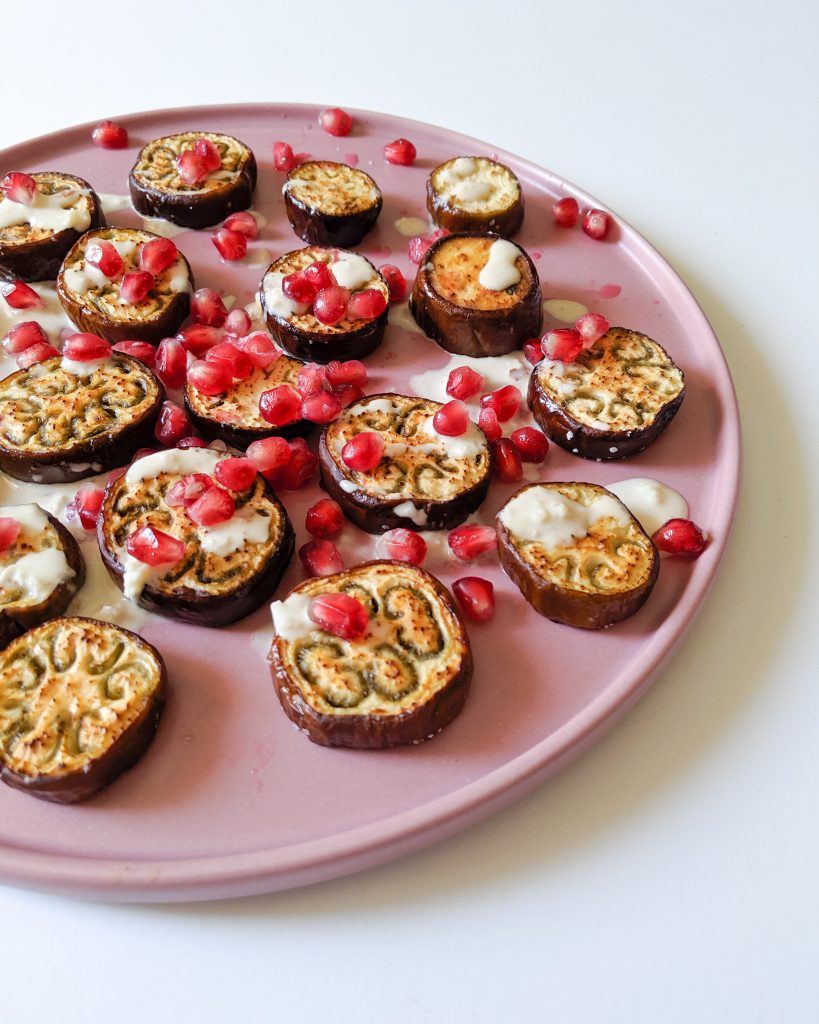 This eggplant recipe pairs exceptionally well with kefta (we get ours from our local butcher). You can also pair this with roasted cauliflower, which also is delicious drizzled in the tahini sauce. A simple green salad with halloumi and pomegranate is also a great compliment to this dish.
Roasted Eggplant with Tahini Drizzle
Ingredients
1 large eggplant or 2-3 Japanese eggplants
2 tablespoons avocado oil
2 teaspoons sea salt
1/4 cup tahini
1/2 lemon, juiced
1 clove garlic, minced
1-2 tablespoons water
1/2 cup pomegranate seeds
Instructions
Preheat oven to 425ºF. Line a baking sheet with parchment paper.
Cut the top and bottom off your eggplants. Slice eggplants into 1/2 inch rounds.
Spread round out on prepared baking sheet and brush with avocado oil and sprinkle generously with sea salt.
Bake for 20-25 minutes flipping once halfway through.
In a bowl, combine tahini, lemon juice, minced garlic and whisk together. Add water gradually until it reaches a creamy, pourable consistency.
Once eggplant is golden brown, remove from oven. Arrange on a plate. Drizzle tahini sauce over the roasted eggplant and sprinkle pomegranate seeds overtop.
https://elizabethraybould.com/roasted-eggplant-with-tahini-drizzle/