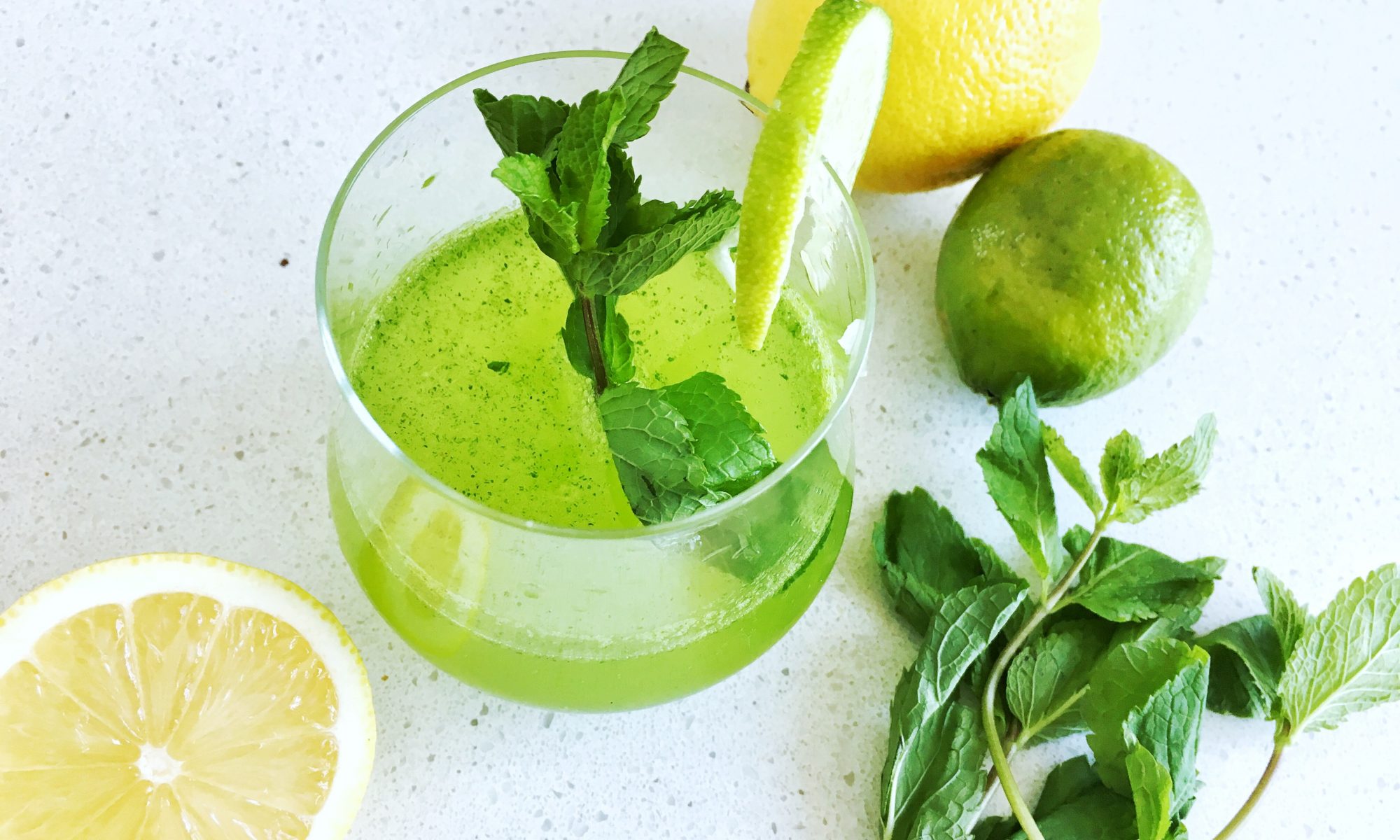 ---
Summer Mocktails/Cocktails
---
Mocktails/Cocktails



---
With the warm weather and the full on embrace of summer, comes patio season and lots of boozy drinks. Now, I'm not a big drinker, I'm actually following an alcohol-free approach right now, but Topher (my boyfriend), loves a well made cocktail. He's definitely got some mixologist traits to him and boy does he made a good drink, with and without booze. Together we made a bunch of yummy summer drinks for you, because water can be pretty boring after awhile. Some of the mocktails do have an optional modification to add booze to them, because life is all about balance.
---
Minty Smash

---
Recipe
1 Lime; juiced
1 Lemon; juiced
⅓ Cup Mint
1 Cup Water
Top with sparkling water (4 oz)
Instructions
In a blender combine the lime and lemon juice with the mint and water, puree. Pour into glasses and top with sparkling water. Garnish with a wedge of lime.
Inspo: A take on the classic "Bourbon Smash" cocktail, this drink is a refreshing mix of mint and citrus. Made for hot summer Kentucky days, the base ingredients make a refreshing drink with just some sparkling water, and you can optionally add some bourbon for a the classic cocktail!
Benefits: lime and lemon juice is very detoxifying for your liver!
Modifications: You can add 1 oz Bourbon, per drink, it that's more your jam.
---
So Fresh, So Clean

---
Recipe
1 ½ Cups Frozen Mango
⅓ of a Jalapeño
⅔ Cup Mint
1 Cup Water
Sparkling Water
Instructions
In a blender combine mango, jalapeño, mint and water. Pour into your glasses, fill halfway and mix with sparkling water (1:1 ratio mango mixture to sparkling water)
Inspo: This drink was inspired by our favourite drink at our favourite Mexican restaurant La Carnita. We came pretty close to the original and it takes so so good!
Benefits: Mangos are high in Vitamin C, which boosts your immunity and Vitamin A which is important for vision, bone and joint health.
Modifications: You can add 1-2 oz gin or vodka, per drink. 
---
Blueberry Basil Lavender Spritzer

---
Recipe:
2 Cups Water
1 TBSP Raw Honey
½ Cup Frozen Blueberries
1 TSP Lavender Buds
1 Handful Fresh Basil
Instructions
In a pot combine water, honey, frozen blueberries, and lavender. Tear up your basil and add it to the pot. Let simmer on low to medium heat for about 20-20 minutes or until the mixture is a deep purple colour and fragrant. Strain the mixture and store in a mason jar until you're ready to use it. To make the spritzer, combine one part chilled blueberry mixture with one part chilled sparkling water.
Inspo: herbaceous drinks are the latest summer trend. Blueberries and basil offer delicate flavours against the bright flavours of basil. The unique combination of flavours are completely delicious.
Benefits: blueberries are high in antioxidants, vitamin K and vitamin C, which is great for liver detoxification.
Modifications: add 1 oz gin and top with prosecco instead of sparkling water.
---
Iced Teas

---
Recipe
Choose your favourite tea, I love using organic peppermint tea and various detox teas, in a large pitcher or mason jar, add one to two tea bags with room temperature water, let sit, refrigerated for 8-24 hours. Remove tea bags and serve over ice!
Inspo: fancy, sugar filled iced tea drinks from coffee shops (think: Passionfruit Lemonade, etc.)
Benefits: this bevvie is super, duper hydrating. Teas can be great detox drinks, try to choose organic teas.
---
Refreshers

---
To make any of these refreshers, combine all the ingredients in a pitcher or mason jar, stir and serve over ice!
Citrus Zing Recipe
2-3 Cups Water
1 inch piece ginger, sliced
1 lemon sliced
½ tsp cayenne pepper
Lavender Thyme Recipe
2-3 Cups Water
2 TBSP lavender buds
¼ Cup Thyme
Mojito Recipe
2-3 Cups Water
¼ Cup cucumber; sliced
1-2 Limes, sliced
½ Cup Mint