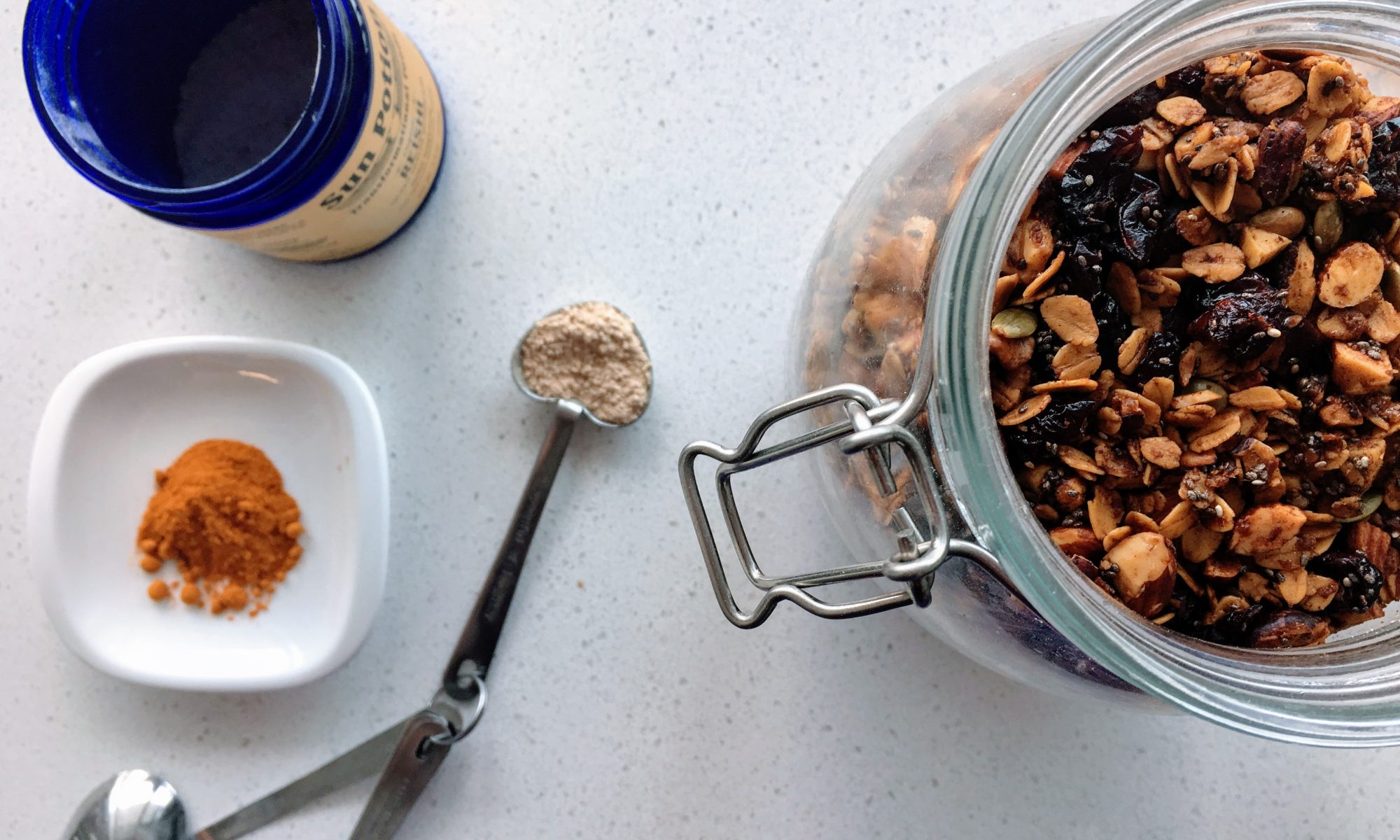 ---
To be honest, I'm a bit of a granola snob. I don't eat granola often, so when I have a hankering I want it to be chock full of the good stuff, like nuts, seeds, and lots of spices. And not full of refined sugars or any extras that aren't going to fuel my body. I like my granola to have a ratio of oats to extras. I even love a good grain-free, oat-free granola, although that is not what I'm sharing with you today.
Then I got to thinking, what if we put incredible, powerful, healing, energizing, and brain boosting herbs in granola?! That's how I came up with this Supercharged Granola. It is full of all the good stuff plus a few extras to take it to the next level.
---
Supercharged Ingredients
Turmeric: incredibly anti-inflammatory, has been shown to be incredible for endometriosis. Turmeric is packed with phytonutrients and antioxidants, just look at the colour!
Reishi: is known as the "Queen Healer Mushroom", reishi is a mushroom that is incredible for supporting the immune system, regulating stress and has been shown to be reduce DHT levels in men and women which is incredible for PCOS and enlarged prostate.
Lions Mane: anti-inflammatory and packed with antioxidants. Lions Mane is known for it's brain boosting functions, specifically in increasing attention span and improving focus. This powerful mushrooms also supports the cardiac and circulatory system.
---
Ingredients
3 cups gluten free rolled oats
1/2 cup walnuts, chopped
1/2 cup hazelnuts, chopped
1/2 cup almonds, chopped
1/2 cup pumpkin seeds
1/4 cup chia seeds
1/3 cup coconut oil, melted
1/3 cup coconut sugar
1 tablespoon maple syrup
2 tablespoons raw honey
2 tablespoons cinnamon
1 tablespoon ground ginger
2 teaspoons ground turmeric
2 teaspoons reishi powder
2 teaspoons lions mane powder
pinch of sea salt
1/2 cup organic dried fruit (cranberries, raisins, blueberries, etc.) (optional)
Instructions
Preheat oven to 275ºF.
Combine oats, nuts, seeds, salt, spices and powders in a bowl. In a separate bowl combine melted coconut oil, coconut sugar, maple syrup, and raw honey. Add wet ingredients to dry and stir well to combine. Once evenly coated divide granola between two baking sheets. Spread into an even layer.
Bake for 60-90 minutes, stirring once; until golden brown and fragrant. Once cooked, add dried fruit and stir around. Let cool on baking sheets and once cooled transfer to a airtight jar or container.
https://elizabethraybould.com/supercharged-granola/
I hope you enjoy this granola recipe as much as I do and that it fuels you to go out and make a difference.
If you need more help meal planning for success or help healing your hormones and managing your fertility, PCOS, or endometriosis, you can book an appointment, right over here!